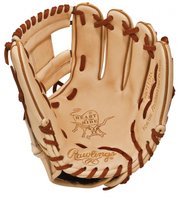 Nothing quite compares to that first glove, even for the Kansas University baseball players who execute such smooth fielding magic on the Hoglund Ballpark diamond, where they are scheduled to open a three-game series against Baylor at 6 p.m. today.
"It was a small glove because I used to play shortstop," left fielder Michael Suiter remembered Thursday afternoon. "I had it for a long time, and it finally broke. That was a bad day."
It never occurred to him that he wouldn't wear that glove for the rest of his baseball days. It had been with him since first catch with older brother Matt. Michael walked up to his father, broken glove in his hand, broken heart coloring his confused face, and said the only thing he could think to say: "What do I do?"
He didn't know the answer then, but it seems silly now that he didn't.
"Then he got me a new one, of course," Suiter said. Of course he did. That's what fathers do.
Right fielder Dakota Smith lived the thrill all over again, his eyes growing brighter one more time.
"First glove, my mom got it for me for Christmas," Smith said. "It was a Louisville Slugger. It was definitely my favorite glove. It came broken in. I ended up losing it, and I really didn't want to lose it. I couldn't find another glove I liked for quite a while."
Oh, well, it was better to have had a glove and lost it than to have never had a glove at all. He and his first glove grew close instantly and shared a bed on the first night of their relationship.
"First couple of nights, I put it under my pillow, and after that it was pretty much right next to me," Smith said. "It was my baby."
Second baseman Justin Protacio grew up next to the University of Hawaii campus, where he watched and emulated home and visiting players on Friday and Saturday nights — Washington Nationals second baseman Danny Espinosa, then of Long Beach State, among them.
"It was definitely from Sports Authority, and it was plastic," Protacio said. "I think I still have it laying around my house. It has a lot of autographs from those games."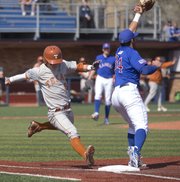 First baseman Alex DeLeon's first was "a huge, softball-looking mitt. It was just a big mitt that did not fit me. My parents bought it and just let me grow into it for a couple of years."
Catcher Ka'iana Eldredge learned the game from his father, a college baseball coach at Brigham Young, Hawaii Pacific, Loyola Marymount, Southern Utah and Utah, now living in Hawaii seeking his next coaching job.
"It was a Zett glove," Eldredge said. "I think my mom has it somewhere. She saves all of our first-time stuff — first shoes, first glove. My little brother had curls, so she cut off one of his curls and saved his curl. Weird stuff. I'm sure she's got the Zett somewhere."
KU shortstop Kevin Kuntz has had so many gloves, he had to think for a minute.
"Oh, man, what was that thing?" he wondered. "I think it was a Wilson, pretty small, pretty tiny, all-brown glove. I kept it for a couple of years until it finally gave out on me. It was my favorite glove growing up. I remember Mark McGwire signed it, and it was pretty neat playing with it with his autograph on it."
He didn't mean a replica McGwire signature. He meant he actually signed it. Kevin's father, Rusty Kuntz, Kansas City Royals first-base coach, was with the Florida Marlins then, and McGwire was playing for the St. Louis Cardinals.
"I got to hang out on the field with Mark McGwire when I was 5," Kuntz said. "He was a really nice guy, pretty cool."
Center fielder Tucker Tharp said his first mitt was "a Rawlings, an old raggedy one my brothers had used and passed down to me. I used it for three or four years and finally got a new one when I got to Little League after T-ball and coach-pitch."
Tharp's brother Travis, 11 years Tucker's senior, played baseball at Northwestern. Their brother Taylor, seven years older than Tucker, was a backup quarterback for Boise State in the statue-of-liberty-play victory against Oklahoma in the Fiesta Bowl in 2007, which Tucker witnessed from a corner seat in the stadium.
Third baseman Jordan Dreiling said the glove he wore for his first catch with his dad, "probably in the front yard," stayed with him for four or five years.
"In the earlier days, probably before high school, I had two gloves, and if I made an error, I'd switch to the other glove," Dreiling said.
Players treat their gloves with gentle care.
"When I put it down, I always put it down like this," Dreiling said, placing the glove on the floor, back side up, pocket hidden. "It helps it keep its shape, and I think it looks better, rather than having it flopping around."
Generally, an outfielder's glove is bigger than a pitcher's, which is bigger than a third baseman's, which is bigger than a shortstop's, which is bigger than a second baseman's.
Each Kansas player is entitled to one free glove a year, and a rep from Rawlings and one from Wilson visited the clubhouse at the beginning of the year to take orders. Seven of the eight starters wear Rawlings models, most either "Pro-Preferred" or a "Heart of the Hide" models.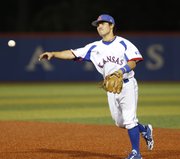 Protacio, the second baseman, is the only starter who wears a Wilson.
"The Dustin Pedroia a2000 model, pretty awesome because he's a little guy like me," said Protacio, who is 5-feet-6 inches of pure leather. "It molds to my hand perfectly. All I had to do was play some catch, take some ground balls, and it was good to go."
DeLeon's first baseman's mitt took a little more work to get it game-ready.
"I catch fastballs off the machines," he said. "That helps to break it in quicker."
The glove must fit, so teammates who like to try on gloves that don't belong to them should just, uh, quit doing that, most players in the clubhouse agreed.
"I don't really like people sticking their hands in it, but we have a catcher who likes to do that," Smith said, nodding toward Eldredge. "They form to your hand, so when you have guys with bigger hands sticking them in, it kind of loosens the leather, and it feels a little bit different. A lot of guys get a little bit distracted by that."
He was talking about several teammates and himself.
"I don't have big hands, so when you get a bigger hand in there it feels a little bit floppy when you put it back on, and it's just not the same," Smith said. "It's kind of like it's part of you. I keep it in the top of the locker, keep a ball in it so it keeps the form. It's like it's your baby."
Eldredge selected his Heart of the Hide model catcher's mitt because Cardinals catcher Yadi Molina wears it.
"Best catcher in the bigs," he said, believing no more explanation was necessary.
On rainy days, Tharp uses last year's "floppier" glove, not this season's Heart of the Hide "stiffer" model because he doesn't want the moisture to taint his web-gem instrument of choice.
"You've got to keep your pearl, got to keep her close," Tharp said.
When it comes to the companion with which they play the field, men forever will be boys, entranced in an endless glove affair.
More often than not, when Kansas wins a close game and the glove is in the air, it is because the Jayhawks played better defense than their opponents.
Copyright 2018 The Lawrence Journal-World. All rights reserved. This material may not be published, broadcast, rewritten or redistributed. We strive to uphold our values for every story published.