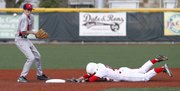 Lawrence High baseball coach Brad Stoll scrunched his face and made and sound between an "ick" and a "yuck."
Still, asked to describe his team's 3-1 victory over Shawnee Mission North on Wednesday at LHS, the coach also admitted he couldn't leave too frustrated.
"We got a 'W,' and a win's a win in this conference," Stoll said. "We'll keep the momentum going hopefully."
After pounding 15 hits in four innings against Olathe East on Tuesday, LHS mustered just six hits against North pitchers Alex Conley and Daniel Hotujac.
More frustrating for Stoll was what happened when the Lions had runners on. LHS was 0-for-4 with three strikeouts during its plate appearances with a runner on third.
"I'll take a hard-hit ground ball or a hard-hit line drive or something with somebody in scoring position," Stoll said. "But we weren't very effective doing that tonight, and that's something we're going to address before we go into next week."
LHS trailed, 1-0, when Shane Willoughby led off the fourth with a single to right against Conley.
"He was trying to pitch us away and keep us out in front," Willoughby said. "I just moved up in the box, closed up my stance and looked for something away."
Willoughby immediately made an impact with his speed. He stole second, then after Drew Green walked was on the front end of a double steal that moved runners to second and third with nobody out.
After a strikeout, Lawrence's Jacob Seratte hit a hard grounder to North shortstop P.J. Wallace, who was playing in. Willoughby broke on contact, but just as Wallace was winding up to throw home, Wallace tripped on his shoelace and fell to the turf without releasing the ball.
LHS took the lead on another strange play. With Easton Barnes batting, Seratte took off for second on a steal, and North catcher Jamie Crabtree threw it hard back to Conley on the mound. The deception fooled Green at third, and he was caught in a rundown between third and home.
After Crabtree dropped the ball in the rundown, though, Green was able to scamper safely back to third. Seratte, though, was almost all the way to third, so Crabtree threw behind him to get him in a rundown between second and third.
Though Seratte was eventually tagged out, Green was able to run home while it happened to give LHS a 2-1 lead.
The run support allowed LHS starter Brandon Bell to pick up the win after four solid innings. He allowed three hits and one unearned run to go with two walks and a strikeout.
"I feel like I gained more control when I went on," Bell said. "... I just got into my rhythm, finally, in the third inning."
Adam Rea pitched two scoreless innings against North (2-13, 0-9) before Willoughby picked up the save with a perfect seventh.
Green was 1-for-2 with a walk and an RBI triple — his fourth triple in two days. Willoughby added two runs and three stolen bases.
LHS (12-6, 8-2) only has two regular-season games remaining — both against Free State next week.
"You've got your big rivalry week, which is exciting, because they're the best team in the state of Kansas," Stoll said. "Great program, great coaches"
SM North 010 000 0 — 1 3 0
Lawrence 000 201 X — 3 6 1
W — Brandon Bell, 6-2. L — Alex Conley. SV — Shane Willoughby.
3B — Drew Green, LHS.
LHS highlights — Drew Green 1-for-2, BB, 3B, R, RBI; Shane Willoughby 1-for-2, BB, 3 SB, 2 R; Brandon Bell 4 IP, 3 H, R, 0 ER, 2 BB, K.
Copyright 2018 The Lawrence Journal-World. All rights reserved. This material may not be published, broadcast, rewritten or redistributed. We strive to uphold our values for every story published.