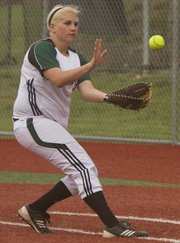 Swept by one undefeated-in-league team a day earlier, Free State High returned the favor to another on Wednesday.
A day after a pair of lopsided losses at Sunflower League co-leader Olathe East, the Firebirds bounced back with an 8-3, 4-1 sweep of Shawnee Mission East at FSHS.
"(Tuesday) was hard for us," Free State's Emily Bermel said. "And it's a good feeling to come back and beat a good team like we did tonight."
The Firebirds (15-3 overall, 9-1 Sunflower League) trailed the first six innings of the nightcap and appeared on the brink of a three-game losing streak when an odd call — an appeal of an umpire's ruling, with both teams already in their own dugouts — turned the tide.
An RBI single by A'Liyah Rogers tied it at 3 in the bottom of the sixth before Bermel hit a dribbler back to SM East pitcher Rowan Turner, who quickly threw to first base for what appeared to be the final out of the inning. The field umpire called Bermel out, but after FSHS coach Lee Ice appealed to the home-plate umpire, the call was overturned. It took some time, though. By the time the umpires reached a decision, both teams were in their dugouts, the Lancers preparing to bat in the top of the seventh and the Firebirds on hold while waiting for the ruling.
"I'm in there telling them we're still up," Ice said. "Because as soon as I appealed to the plate umpire, he told me he had her off the bag. I knew it was going to work out in our favor at that point."
Bermel had a hunch, too.
Bermel, who went 3-for-8 on the day with five RBIs, said she clearly saw the foot of the SM East first baseman come off the bag. In the end, Bermel was ruled safe, which allowed a run to score, put the Firebirds ahead 4-3 and kept the inning alive. Three batters and two SM East errors later, the Firebirds had added four insurance runs and went to the seventh inning with a commanding lead.
"You've gotta take advantage of other teams' mistakes," Ice said. "That's what good teams do."
Added Bermel: "Coach Ice always tell us to deal with adversity and to stay calm during moments like that. I thought we did a good job of that."
Meredith Morris (10-1) threw a complete-game nine-hitter and was aided by a defense that turned two doubles plays on the day — against a team that entered 6-0 in the league.
Free State's roll continued into the second game, when Rogers reached base on an error to lead off and came around to score on an RBI single from Emily Byers.
East tied the second game at 1 in the third inning, but the Firebirds responded with three in the fourth on four straight two-out hits from Summer Frantz, Kylie Cobb, Rogers and Bermel.
"I'm very proud of the girls," Ice said. "We had to forget about (Tuesday), and that's why I was glad that we played today rather than having to wait to get back out there."
The Firebirds will close the regular season next week with two games against Lawrence High, Monday at home and Wednesday at KU.
SM East 102 000 0 — 3 9 2
Free State 000 024 x — 8 13 1
W – Meredith Morris (10-1) L – Rowan Turner
2B: Courtney Parker, FS; Anna Cook, SME; Rowan Turner, SME. 3B: Erin McGinley, SME.
Free State highlights: Meredith Morris 7 IP 7 H 3 R 3 K; A'Liyah Rogers 2-for-4, 2 runs, SB; Emily Bermel 2-for-4, 3 RBI, run; Emily Byers 1-for-4, run; Whitney Rothwell 2-for-4, run; Courtney Parker 3-for-4, RBI, 2B; Remington Samuels 1-for-3, RBI; Lily Ross 1-for-3, run; Kylie Cobb 1-for-3, run.
SM East 001 000 0 — 1 7 1
Free State 100 300 x — 4 9 0
W – Kaley Delg (5-2) L – Rowan Turner
2B: Shelby Harvey, SME; 3B: Erin McGinley, SME.
Free State highlights: Kaley Delg 7 IP 7 H 1 R 1 K; A'Liyah Rogers 1-for-3, 2 runs; Emily Bermel 1-for-4, 2 RBI; Emily Byers 1-for-3, RBI; Meredith Morris 2-for-3; Summer Frantz 1-for-1, run, sacrifice; Kylie Cobb 1-for-3, run.
Copyright 2018 The Lawrence Journal-World. All rights reserved. This material may not be published, broadcast, rewritten or redistributed. We strive to uphold our values for every story published.