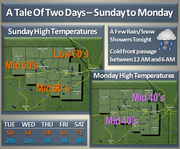 Winter Weather
Winter weather information
Despite temperatures in the low 60s expected in the area Sunday, winter weather still lurks.
A forecast from the National Weather Service calls for a strong cold front hitting northeast Kansas Sunday evening and early Monday morning.
Temperatures will dip, and the area could see rain, snow, and strong winds. The cold front will keep temperatures in the 40s on Monday, but the area could warm up into the 70s by the weekend.
Copyright 2018 The Lawrence Journal-World. All rights reserved. This material may not be published, broadcast, rewritten or redistributed. We strive to uphold our values for every story published.