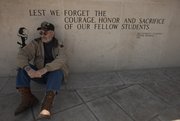 John Musgrave already had told me about the power of a few words.
"A single sentence can say so much," he had said a few moments earlier.
Musgrave is a poet, and we are sitting in a small, ornate conference room in the Journal-World building that we all call the Parlor, so it seems appropriate to talk about such fineries as poetry.
But let's not kid ourselves. That's not what we're really talking about. We're talking about an art form even older than poetry: War. And that is a subject where a single sentence certainly can say a lot.
"It was an intimate ambush," Musgrave says from his seat at the table.
An intimate ambush? I get the gist of the sentence, but that's different from saying I understand it. Thankfully, I'm not expected to. I'm not a veteran of anything, let alone combat.
Musgrave knows I don't understand. He's seen that look plenty of times before. So, he points at a corner of our parlor, perhaps a strong six feet away from his chair.
"That's about how far away I was from the man who shot me," Musgrave says like he was delivering yesterday's weather report.
An intimate ambush.
• • •
If one sentence can say so much, Musgrave is hoping that many sentences uttered by famed documentary filmmaker Ken Burns can say so much more.
Burns and his crew are working on an epic documentary about the Vietnam War — a film project that is expected to be 17 hours and air sometime in 2016.
And Musgrave, of Baldwin City, is a part of it. As it is shaping up, he perhaps is set to be a key character of the entire story. That would make sense because Musgrave in 1967 was a member of the 1st Battalion 9th Marines, an infantry unit that took such heavy casualties in Vietnam that it gained the nickname of "The Walking Dead."
A hell of a cool nickname, as long as it's someone else's.
But Burns' people haven't spent as much time talking with Musgrave about his days in that famed unit as they have about what he's doing now: eating barbecue.
Musgrave and three other area Vietnam veterans meet regularly at Lawrence's Biggs BBQ with soldiers from Fort Riley, who frequently are adjusting to life stateside after fighting wars in Iraq or Afghanistan. Burns' crew was in town last month to film a meeting of the group.
"We have used them up," Musgrave says of the soldiers. "We have tried to fight this war on the cheap, and we just send them back over and over. They have suffered physical wounds and disabling emotional wounds.
"I feel like our role is just to help them know some of the speed bumps and potholes of life, and how we survived them."
Musgrave has been a frequent speaker at military bases over the years on the subject of post-traumatic stress and the struggles of life after war. But talk isn't always enough. Musgrave said the Army is suffering about one suicide a day of members on active duty.
But a soldier does what he can, and in this case that means barbecue and conversation with America's newest veterans. The sentences they share are between them. But Musgrave says he tells the same thing to each of them at the beginning.
"We are not old veterans talking to young veterans," Musgrave says. "We are warriors talking to fellow warriors. Location and technology is all that changes. But men have been struggling with PTSD since they were beating brains out with rocks."
But today, the thought of a veteran having to struggle with it alone is more than Musgrave wants to live with.
"It is tragic when you realize how many warriors could survive combat but couldn't survive peace," Musgrave says. "I think that is an indictment on our society."
• • •
When you give up on the future, you become a much better combat Marine.
"The future is a pipe dream," Musgrave says. "That is how you had to operate in the bush. You couldn't be a good Marine if you believed in the future."
A little belief, though, would have helped as a new student at Baker University. That's where Musgrave, who grew up outside of Kansas City, ended up after spending nearly one year in the jungles of Vietnam and two years in military hospitals.
He may have been on the small campus in Baldwin City, but he was still living in the bush.
"I was just operating from breath to breath," Musgrave says.
And giving plenty of people the middle finger along the way. He said when he returned from the war there were many — particularly in Lawrence — who treated him "more like a Nazi than an American."
People told him to grow his hair long and never wear anything that associated him with the Marines. So, he wore his combat boots and jungle jacket every day.
"I had a tremendous chip on my shoulder," he says.
It wasn't the only thing weighing him down. Musgrave says he was drinking heavily and considering suicide "very seriously." But he remembered an activity that he took up at an Army hospital once. He had written a poem that made him feel better for awhile.
"The beauty of poetry is it belongs to all of us," Musgrave said. "You don't have to be a gifted writer. It allows you to express a great deal in the fewest number of words. And it allowed me to write about things I couldn't talk about."
It still does. Musgrave has multiple books of poetry published, but the one that gets the most recognition is titled "Notes to the Man Who Shot Me." The featured poem was written 35 years after that "intimate ambush." By then, the darkest thoughts had subsided, but it took another piece of less artistic writing to get him there.
It was a list, written in the 1970s, that just as easily could have turned into a final note.
"I wrote down all the reasons why Vietnam was the worst thing that ever happened to me," Musgrave says. "I had a hell of a list. On the other side, I wrote down one thing: My buddies. That's when I realized that in Vietnam I learned more about the meaning of being a true American and more about the meaning of love than anywhere else."
• • •
Musgrave was now bait. He knew that. The enemy machine gunner who had shot him now was shooting the Marines who were coming to get him. Two of the men in Musgrave's unit — buddies — already had been killed trying to reach him.
Two more men did reach him. They carried him back, and "even though they knew I was going to die and I knew I was going to die" they would cover his body with theirs as they stopped and returned fire as they fought their way back to safety.
"I'm a Marine and we never leave our wounded," Musgrave says. "That is what makes me get out of bed in the mornings."
These days, Musgrave is hopeful that the Ken Burns film will be a vehicle that carries many who have been left wounded by the Vietnam War.
"There are people who would never watch a documentary about Vietnam, but they'll watch this one because it is Ken Burns," Musgrave said.
"We have to do what we can to never allow Americans to forget, because they really would prefer to forget that war. My greatest responsibility is to make sure that people understand the men and women who died in that war died as honorably as any who have died in any war."
• • •
I do something I normally don't do at the end of an interview. I thank the man for much more than his time. I listen to people's stories for a living, and I tell him that is one of the more meaningful ones I've ever heard firsthand.
The sacrifice, the commitment, the brotherly love.
John knows I still don't understand.
"That," he says, simply "happened every day in that war."
A single sentence sure can say so much.
— Each Sunday, Lawhorn's Lawrence focuses on the people, places or past of Lawrence and the surrounding area. If you have a story idea, send it to Chad at clawhorn@ljworld.com.
Copyright 2018 The Lawrence Journal-World. All rights reserved. This material may not be published, broadcast, rewritten or redistributed. We strive to uphold our values for every story published.