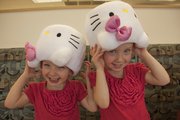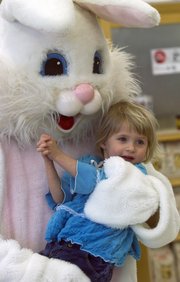 Children lined the edges of the Lawrence Indoor Aquatic Center pool Saturday afternoon as they waited for the go-ahead to hop in. Most of them were armed with baskets and goggles, prepared to search the pool in a not-so-run-of-the-mill Easter egg hunt.
More than 100 kids attended the Underwater Eggstravaganza, hosted by the city's Parks and Recreation Department.
After collecting five eggs from the pool, the children could receive a ticket. They exchanged the ticket for a goody bag filled with candy and a free, personalized, frosted cookie from Eileen's Colossal Cookies.
Children who were pre-registered could also arrive to the event early and participate in craft-making.
Rachel Sullivan, Parks and Recreation's aquatic programmer, said 108 children signed up for the event, an increase from the 70 children who attended last year.
For the older children, the city filled some of the eggs with plaster to make them sink so they were harder to find.
"The kids really like it because they get to dive to the bottom of the pool to get them," Sullivan said.
There were also six golden eggs that were hidden well, and the children who turned those in received an extra prize.
Lawrence resident Haining Lou's 5-year-old daughter is learning to swim, so she likes coming to the pool, which is part of why Lou brought her to search for eggs.
"I think it's a fun event, and it's indoors so the weather doesn't matter," Lou said.
The scattered rain throughout the afternoon didn't affect the underwater egg hunt, but the Egg Hunt Eggstravaganza originally scheduled to take place at South Park caused a mix-up for families wanting to search for eggs on land.
The city announced Friday that the hunt, sponsored by the Parks and Recreation Department and Hy-Vee, would be relocated to both Hy-Vee stores in the city because of the forecast of inclement weather, but the stores didn't host egg hunts. The Easter Bunny did make a visit to each store and employees had treats for the children near the entrance of the stores.
Mike Gowing, manager of perishables at Hy-Vee, 3504 Clinton Parkway, said the stores don't have the capacity to host an actual egg hunt, so the bags of goodies were available for the children instead.
"We still wanted to do something fun for the kids," Gowing said.
Copyright 2018 The Lawrence Journal-World. All rights reserved. This material may not be published, broadcast, rewritten or redistributed. We strive to uphold our values for every story published.