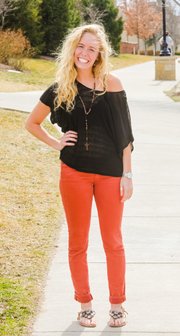 Age: 19
Relationship status: Taken
Hometown: St. Paul, Minn.
Time in Lawrence: It's my first year here!
Occupation: Student at Kansas University
Dream job: My dream job would involve working as a pharmacist. However, I love drawing sketches of different designs and dresses. Doing fashion on the side of pharmacy would give me the best of both worlds!
What were you doing when scouted? Coming home from class to pack and get ready for spring break!
Describe your style: My style is very natural and free. Whatever I feel confident in and reflects my personality well, I'll wear!
Fashion trends you love: I love the urban look! It's creative.
Fashion trends you hate: I dislike trends that flaunt too much skin.
Fashion influences: Magazines like Vogue inspire me. They give me a great appreciation for clothes!
What would you like to see more of in Lawrence? I would like to see more people who dress according to what they feel. A lot of the time everyone starts to look the same.
Less of? Girls showing too much skin. To me, that doesn't define confidence.
Tattoos or piercings: None
Whom do people say you look like? Rachel McAdams
What type of music do you unwind to? Lana Del Rey and Adele
Tell us a secret … I thrift shop a lot!
Copyright 2018 The Lawrence Journal-World. All rights reserved. This material may not be published, broadcast, rewritten or redistributed. We strive to uphold our values for every story published.