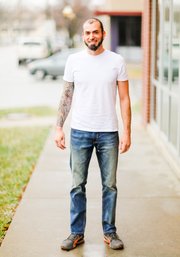 Age: 34
Relationship status: I have a beautiful fiancée and we're expecting a child.
Hometown: Lawrence
Time in Lawrence: Since '92
Occupation: Massage therapist, energetic practitioner and woodworker.
Dream job: I'm living the dream! I own a place called Elevate on Mass. St. where we do massage therapy, energetic healing and workshops.
What were you doing when scouted: I was having breakfast with my fiancée.
Describe your style: My style is very functional. When I'm in the woodshop, I like to wear rugged things that I can get dirty. When outside, I like brighter clothes like white, orange and red; something that opens up the energy centers in your body and makes you feel vibrant.
Fashion trends you love: When I was younger, I used to wear white T-shirts all the time and jeans. That was all I needed.
Fashion trends you hate: I love people and all their expressions. I see a part of myself in everyone else. So I can't hate them or a style.
Fashion influences: I like to be in clothes that are natural and grounded so there is not a particular person or designer. It's what makes me feel grounded.
What would you like to see more of in Lawrence? Bare feet!
Less of? High heels because it harms your feet after a while when they're kept bound up for a long time.
Tattoos or piercings: Yes, both.
Whom do people say you look like? Abraham Lincoln
What type of music do you unwind to? Silence is good, but I've been humming a lot of Bob Marley lately. Music like that that brings me joy.
Tell us a secret … I have this condition that my body doesn't produce its own chocolate, so I have to supplement chocolate.
Copyright 2018 The Lawrence Journal-World. All rights reserved. This material may not be published, broadcast, rewritten or redistributed. We strive to uphold our values for every story published.