City officials certainly hope the Jayhawks win this weekend, but some worry about what will happen if they do.
It's called March Madness for a reason, and the unruly crowds swarming Massachusetts Street and other neighborhoods during past college basketball tournaments have cost the city hundreds of thousands of dollars.
If the Kansas University men's basketball team wins on Friday and Sunday, a similar scene is expected as the team advances to the NCAA Final Four next weekend. Based on previous years' experience, the party would get started after a victory on Sunday.
As they have in the past, police have planned an elaborate strategy for dealing with that possibility, including an emergency command center to coordinate with Lawrence-Douglas County Fire Medical and the city's utilities and parks departments. Police officers were out on foot Thursday reminding downtown bars and restaurants of a city ordinance that specifically bans glass beverage containers during a Jayhawk appearance in the Final Four and championship game.
"We've been preparing for this for months," said Sgt. Trent McKinley, a Lawrence Police Department spokesman. "Luckily for us, we've done this a few times."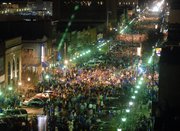 The celebrations are memorable, but they come at a price. About 60,000 people descended on the downtown area during the Jayhawks' tournament run last year, McKinley said, costing the city $200,000 in property damage and city employee overtime. When Kansas lost the final game to Kentucky, fans damaged a traffic light and street signs, particularly in the area of Kentucky Street. People often attempt to climb streetlights, creating a real danger of the metal pole falling into a crowd. In the Oread neighborhood last year, someone set a wicker couch on fire.
"Actually, it was a love seat," McKinley said. "But it was a total loss."
This weekend, police and other city officials will mainly be watching and waiting. If there is a Final Four celebration in Lawrence, there will be no days off for Lawrence police next weekend, and they will be reinforced by officers from about 10 outside agencies. Police have plans to install temporary cameras to monitor downtown, and the city will provide portable toilets, as usual. McKinley said police will close streets as needed if celebrations happen next weekend.
The police department's goal, McKinley said, isn't to spoil anyone's March Madness fun, but to make sure everyone is safe. It costs: police working on their day off are paid overtime, and the temporary cameras are expensive to install. Law enforcement from outside agencies are not paid, essentially donating their time.
To help create a safe environment, McKinley works with Cathy Hamilton, director of the Downtown Lawrence Inc. merchants' association, to clear the area of dangerous objects.
Hamilton helps distribute information to bar and restaurant owners about the glass ordinance, which bars any use of glass beverage containers on public property between Sixth and 13th Streets on New Hampshire, Massachusetts, and Vermont Streets. Violation of the ordinance can bring a $100 fine.
Years of tournament success under coach Bill Self have also taught Hamilton and store owners the prudence of putting away the patio furniture and preventing employees from gaining access to the rooftops.
"I remind them to put away anything that can be used as a projectile," Hamilton said. "Flags, tables, chairs, newspaper racks."
For now, Hamilton said, she is watching and waiting like everyone else, and she credited the police department with learning how to handle the events well.
"It's very comforting for me and the merchant to know that we've been here before," she said. "They pretty much have it down to a science."
Hamilton also credited Lawrence basketball fans with showing relative restraint. "Our people are pretty well-mannered, when you look at what they do in some other markets, where they set cars on fire," she said. "Not to name names."
Hamilton might have been referring to incidents such as the fires in Lexington, Ky., after the University of Kentucky beat Louisville in an NCAA semifinal game last year.
Not all the activity will be taking place downtown. Companies in the lucrative business of selling Final Four t-shirts started planning for temporary Lawrence stores weeks ago. The Lawrence-Douglas County Planning Department is in the process of issuing permits for four locations where tents would be set up to sell Final Four merchandise.
Lawrence's Jock's Nitch has filed for permits for the parking lot of the Hillcrest Shopping Center at 925 Iowa and for the lot at the former University Book Shop at 1116 W. 23rd Street, and Lawrence's Sun Creations has filed for permits for the parking lot of the Westridge Shopping Center at Sixth Street and Kasold Drive, and for the Checkers grocery store parking lot at 2300 Louisiana.
Copyright 2018 The Lawrence Journal-World. All rights reserved. This material may not be published, broadcast, rewritten or redistributed. We strive to uphold our values for every story published.