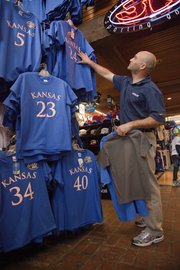 Besides Kansas University fans and students, there's another group hoping the men's basketball team does well in this year's NCAA tournament: local businesses.
Lawrence sports bars, liquor stores and sports merchandisers are rooting for the Jayhawks to win for what it will mean to the university and city, but also their bottom line.
"It's like having another holiday," said Matt Easley, operations director for On The Rocks, 1818 Massachusetts St. "There's a pretty big buildup before the game, and if they win and we're still open, it can have a good impact because people are reveling in the wins."
The liquor store sells lots of beer — particularly of the Free State variety — and mix packs since many people have house parties to watch the games, he added.
A surprise run in the tournament can potentially bring in more money than when the team is expected to do well.
"It was great for business last year, especially the last two games," said Michael Myers, owner of Neighborhood Liquors, 1906 Massachusetts St. "We really saw an impact."
If the 2012-13 Jayhawks go all the way, many fans will want their commemorative T-shirt right after the team gets done cutting down the nets in Atlanta. Jock's Nitch, 837 Massachusetts St., is one business that will have them in stock right away. The apparel store has been planning for this moment for months, and often orders victory shirts before the games are even played, said General Manager Ryan Owens.
"The difference in business between winning a couple more games and not is huge," he said. "You know how Mass Street gets with a couple more wins: They block it off and it becomes one big celebration."
Jock's Nitch even sets up remote locations around town this time of year. Owens said 2013 has been particularly profitable for his store because the Big 12 Tournament and second round of March Madness were played in nearby Kansas City, Mo.
Seating at local sports bars will be at a premium for any remaining Jayhawk postseason games.
"Based on past experiences, the further KU goes in the tournament, the quicker we fill up," said Graig Miller, bar manager for Buffalo Wild Wings, 1012 Massachusetts St.
The restaurant had people calling as early as Monday asking if it took reservations. It does not. Tables are first come, first serve. "If you're not here by 4 or 4:30 p.m., you won't get a table" for Friday's 6:37 p.m. tipoff, Miller said.
But if the Jayhawks fall to Michigan, it just won't be Buffalo Wild Wings that suffers. "If they do lose, everything's going to be slower," Miller remarked.
Of course, the opposite is also true.
Ryan Collette, sales manager at GTM Sportswear, 1008 W. 23rd St., said a deep run by the Jayhawks would be a "huge boost, not just to our store, but to the local economy as a whole."
"Anytime KU basketball or KU football does well, so does the store," he added. "Obviously business would slow down dramatically if they were to lose."
Grayson Dillon contended that sales at Johnny's Tavern, 401 N. Second St., where he is the bar manager, will remain steady regardless of the Jayhawks' tournament success.
"I don't think (a loss) will negatively impact us, but (a win) can only help us: people coming in before the games, hanging out and drinking and eating," he said. "We have a wait list and everything."
Even though KU is still four victories away from an NCAA title, local businesses are already preparing, just in case.
"We're working on national championship stuff right now," said Owens, of Jock's Nitch, which will carry collector's edition T-shirts if and when the Jayhawks win it all. "We'll have them that night, for sure. We'll be ready."
Copyright 2018 The Lawrence Journal-World. All rights reserved. This material may not be published, broadcast, rewritten or redistributed. We strive to uphold our values for every story published.