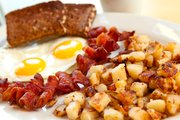 All four restaurants in this week's Going Out feature story will be open for breakfast Sunday morning. Here's five more places to get Easter brunch in Lawrence.
1. The Oread
The Oread's Easter buffet menu is laden with dishes ranging from made-to-order omelets to fancies like Crispy Polenta with Brie Fondue and Mushroom Fricasse. The Easter Bunny will visit from about 1 p.m. to 4 p.m. (Psst! In the morning, he'll be over at the Oread's sister hotel, the Eldridge, which also has a buffet.)
When: 10 a.m. to 4 p.m.
Where: 1200 Oread Ave.
Reservations: 830-3921
Cost: $25.95 for adults, $8.95 for children 7-12 (under 6 free)
2. Mariscos
Cinnamon Roll Bread Pudding, anyone? That's one of the dessert options on Mariscos' three-course Easter menu, on which other choices include biscuits and gravy, grilled salmon, a traditional breakfast plate and more. There's a mini three-course menu for children.
When: 10 a.m. to 4 p.m.
Where: 4821 W. Sixth St.
Reservations: 312-9057
Cost: $23 per person, $8 for kids
3. Pachamama's
The five-course Easter brunch at Pachamama's kicks off with mint-roasted root vegetables then moves on to seafood chowder and cider braised pork belly. For the main course, choose between corned beef short ribs or cedar roasted Irish trout.
When: 11 a.m. to 2 p.m.
Where: 800 New Hampshire St.
Reservations: 841-0990
Cost: $35 for adults
4. First Watch
First Watch isn't doing anything out of the ordinary for Easter, but they don't really need to. The restaurant's huge menu of eggs, pancakes, waffles, omelets and hashes makes every day like Easter Sunday.
When: 7 a.m. to 2:30 p.m.
Where: 2540 Iowa St.
Reservations: No
Cost: Menu prices
5. Perkins
Again, no special Easter offerings, but big meals for big groups is kind of their thing. And they have a lot of pies.
When: 24/7
Where: 1711 W. 23rd St.
Reservations: No
Cost: Menu prices
Copyright 2018 The Lawrence Journal-World. All rights reserved. This material may not be published, broadcast, rewritten or redistributed. We strive to uphold our values for every story published.