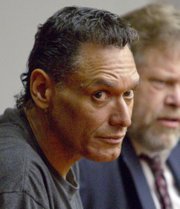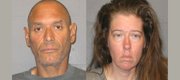 The sentencing of an Illinois man convicted of tying up two of his children in June in the parking lot of a Lawrence Walmart has been postponed for the third time.
Adolfo Gomez, 53, who pleaded no contest to two felony counts of child abuse and three misdemeanor counts of child endangerment, had been scheduled for sentencing last week and this week.
However, the sentencing was delayed after Gomez — who had been represented by Elbridge Griffey — asked Douglas County District Court Judge Paula Martin to appoint a new attorney.
On Wednesday, Martin granted that request and appointed Lawrence attorney Jim Rumsey to defend Gomez.
Following Gomez's December plea, prosecutors and Griffey had recommended a 30-month sentence in the case, though each of the felony counts carries a maximum sentence of 50 months in prison.
Gomez's wife, Deborah Gomez, 43, pleaded no contest to three counts of child endangerment and was sentenced to probation earlier this year.
The Gomez couple's 5- and 7-year-old children were found bound outside the family's van, while the three other children were inside the vehicle, unbound. The family was moving from Illinois to Arizona.
Both Deborah and Adolfo have been in custody since their arrests June 13. Douglas County prosecutors said the children have been placed in protective custody.
Adolfo has a new court hearing scheduled April 11.
Copyright 2018 The Lawrence Journal-World. All rights reserved. This material may not be published, broadcast, rewritten or redistributed. We strive to uphold our values for every story published.