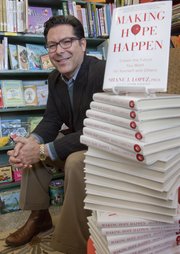 Shane Lopez hope events
"Hope Day" at KU
• Tuesday afternoon in the Kansas Room at the Kansas Union
• 2:30 pm.: Session for faculty, staff and administrators
• 4 p.m.: Session with student leaders
"Making Hope Happen in Our City" for Lawrence
• 7 p.m. Thursday at Lawrence Arts Center
• Lopez will lead a public discussion about spreading hope around town.
Contact KU and higher ed reporter Sara Shepherd
Have a tip or story idea?
---
More stories
It can give you the equivalent of an extra day's worth of productivity each week, Shane Lopez says, or a boost of a full letter grade for a student in a class.
It's a concept that's been the focus of Lopez' work for years: hope. Since a KU professor planted the idea of its importance in his head during a lecture 20 years ago, Lopez has worked to research its power.
As a senior scientist for polling and research company Gallup Inc. since 2008, he's had the power to poll hundreds of thousands of children and teens from around the world on the subject. And now he says that, for everyone from fast-food workers to mortgage brokers to college students, hope is vitally important for success and happiness.
"It's a pretty profound and universal bump that you get from being hopeful," Lopez said.
He's spreading that message around the country in a book released earlier this month, "Making Hope Happen: Create the Future You Want for Yourself and Others," that earned a writeup in Time magazine. And he'll spread it locally in two events this week, one aimed at KU faculty, staff and students and one for the city of Lawrence.
Lopez earned his doctorate in counseling psychology from KU, and he was a professor in the School of Education from 1998 to 2008. He then went to work for Gallup, creating polls for young people around the world. He's still working at the company, but now he's back in Lawrence teaching in the KU School of Business as a professor of the practice.
He has KU to thank for his interest in the power of hope, he says: specifically, a distinguished professor of psychology, Rick Snyder. As a graduate student in 1993, Lopez took a course from Snyder, and one day's lecture, about the power of hope, stuck with him.
Snyder, who once talked up his theories of hope on "Good Morning America," was a pioneer in the area, Lopez says.
"All of this work started because of Rick Snyder," Lopez said. "Now it's worldwide, and it's because of his influence."
At that time, Lopez was interested in researching intelligence, which he thought to be a key to a good life. But after encountering clients who were highly intelligent but still struggled to get their lives off the ground, he returned to his notes from Snyder's lecture and took a look at one of Snyder's books, "The Psychology of Hope." "The next day, I was no longer an intelligence researcher," Lopez said. "I was a hope researcher."
Snyder, who fittingly twice won the HOPE award given to an instructor each year by KU students, died of cancer in 2006. But Lopez has helped to carry on his passion for hope.
At Gallup, Lopez polled 1.5 million fifth- through 12th-grade students from around the world on their levels of hope, and found that a student's level of hope accounts for 12 percent of the variance in his or her learning. That means a hopeful student can earn a grade a full letter higher than that earned by a hopeless one.
And the effect exists in the workplace, too, Lopez found in other research. Hope accounts for 14 percent of the variance in productivity. So if all other things are equal, a worker with lots of hope can do one extra day's worth of work each week compared with a worker without hope.
This is where it's important to note what hope actually is. It's not simply sitting and wishing for better things to happen, Lopez says. He defines hope as a belief that things will get better in the future, combined with a belief that one has the ability to make that happen.
"When they're excited about the future, they naturally start creating pathways to that future," Lopez said.
Hopeful people are also realists, Lopez says. They tend to have a clear goal for the future as well as a clear understanding of what paths it might take to get there and what obstacles lie in the way.
"For most people, it's really just finding one thing that excites them about the future," Lopez said, "and then they aim all their resources at that one thing."
In his book, Lopez tells the stories of a number of people driven by their hope, including a couple of Lawrence faces.
He writes about how Chuck Magerl realized his hope to open Free State Brewing Co. in Lawrence even though he had to push to change state alcohol laws to open a brewery. And he describes how Lawrence resident and KU student Rose Naughtin maintained her hope while undergoing two heart transplants by age 12.
Neeli Bendapudi is the dean of KU's School of Business, which hired Lopez this year and is co-sponsoring his event at KU on Wednesday. She said his work has obvious implications for KU students and, well, anyone.
"I'm convinced that this will be extremely helpful not just for students but frankly for individuals at any stage in their lives," Bendapudi said.
Lopez will meet with KU faculty, staff and student leaders to talk about making the campus a more hopeful place, as part of a college "Hope Day" tour.
He'll follow that up with a Lawrence community event, "Making Hope Happen in Our City," at 7 p.m. Thursday at the Lawrence Arts Center. He'll talk with a panel including Bendapudi and other "high-hope" people around town, as well as with the audience, about how to make hope spread through Lawrence.
Copies of Lopez' book, which also contains guidelines for becoming more hopeful, will be available at both events. He also helped create an iPhone and iPad app, "My Hope Odyssey," that costs $1.99. It's designed, with help from a KU classics professor, to boost user's hope with a story borrowed from Homer's "The Odyssey."
However one finds hope, Lopez said, it's not likely to be easy. He says that simply thinking about a better life, as suggested by the book "The Secret," isn't enough.
"The truth of the matter is that hope is hard work," Lopez said. "It takes a lot of effort to pursue a future that's meaningful to you, that has some real purpose that defines you as a human being."
Copyright 2018 The Lawrence Journal-World. All rights reserved. This material may not be published, broadcast, rewritten or redistributed. We strive to uphold our values for every story published.