A 41-year-old Lawrence man convicted, for a second time, of a 2006 murder has been sentenced to more than 36 years in prison.
Christopher Belone was sentenced Tuesday in Douglas County Court, after being found guilty in January of second-degree murder in the July 2006 beating death of Linda Begay, of Lawrence.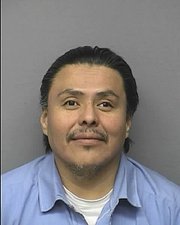 At the conclusion of his second trial on the charge, a jury returned the guilty verdict on Jan. 17. The Kansas Supreme Court had ordered the new trial. The court ruled that, based on new case law, a district court judge in the original murder trial erred in allowing into evidence statements Begay made to police just before she died.
At sentencing, Begay's sister, Charlene Begay, spoke directly to Belone while addressing the court.
"You are a murderer," she said. "She didn't deserve to die this way, with cuts and bruises, and blood."
Charlene Begay said the second trial had been a "horrible ordeal" and thanked the sheriff's office, police department, and prosecutor's office for bringing justice to the family.
Belone apologized to several members of the family who were in court, and said his drinking and drug use were the ultimate cause of Linda Begay's death. "I'm sorry," he said. "I never wanted to hurt her. I thought it was just another drunken brawl."
Lawrence crime, fire, courts coverage
Have a tip?
Contact Journal-World reporter Caitlin Doornbos:
The charges Belone was found guilty of this year were different from those in the first trial, when he had been sentenced to 48 years in prison.
In 2006, he was convicted of intentional second-degree murder, kidnapping, obstruction, and violation of a protective order.
This year, he was found guilty of unintentional second-degree murder and of violation of a protective order. He was found not guilty of obstructing the official duties of a police officer. Douglas County District Court Judge Sally Pokorny sentenced Belone to 438 months Tuesday, a standard sentence under state law.
Belone has already served more than six years in prison, leaving about 30 more, minus the possibility of a five-year sentence reduction for good behavior.
Copyright 2018 The Lawrence Journal-World. All rights reserved. This material may not be published, broadcast, rewritten or redistributed. We strive to uphold our values for every story published.