A Douglas County jury has, for a second time, found Christopher Belone, 41, guilty of second-degree murder in the July 2006 beating death of Linda Begay, of Lawrence.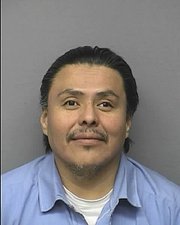 The verdict brings to an end the retrial that began Jan. 9 in Douglas County District Court after the Kansas Supreme Court ordered a new trial in September. The court ruled that, based on new case law, a district court judge in the original murder trial erred in allowing into evidence statements Begay made to police just before she died. Belone had been sentenced to 48 years in prison.
In closing statements Thursday, prosecutors emphasized that Belone intentionally inflicted life-threatening injuries on Begay by beating her with a broken coffee table leg before attempting to take her away from the area in his truck.
Belone's defense attorney, Gregory Robinson, said crucial evidence in the case had been lost when police failed to recover Begay's clothing, and any physical evidence it carried, from the hospital after she was admitted there with serious injuries. He sought to raise doubts among the jury by suggesting that Begay's injuries might have been caused by a bicycle accident that had been discussed in the case, and argued that police should have investigated one of the witnesses in the trial as a suspect.
Belone was found guilty of different charges in this retrial. In 2006, he was convicted of intentional second-degree murder, kidnapping, obstruction, and violation of a protective order. Friday, he was found guilty of unintentional second-degree murder and of violation of a protective order. He was found not guilty of obstructing the official duties of a police officer.
Belone is scheduled to appear for sentencing Feb. 26.
Copyright 2017 The Lawrence Journal-World. All rights reserved. This material may not be published, broadcast, rewritten or redistributed. We strive to uphold our values for every story published.