Dale Nimz says there are still remnants of Douglas County's agrarian past scattered throughout the rural areas surrounding Lawrence, but they are gradually becoming harder to find.
"Old barns are definitely a threatened species," said Nimz, a historic preservation consultant in Lawrence. "Historic barns are large, they're expensive to maintain, and they don't fit modern agriculture and modern life very well. So what often happens is people don't maintain the roof on barns. They leak, that damages the framing, and at some point the structure falls apart."
Nimz and his colleague Susan Ford have spent the last couple of years going from one township to another, taking a survey and cataloging historic buildings and places in rural Douglas County. It's part of a project for the Douglas County Heritage Conservation Council, with funding from the Douglas County Commission.
Last year, they completed a survey of Eudora Township. This year, they are turning their attention to Kanwaka Township west of Lawrence, and Wakarusa Township south of the city.
After holding initial public meetings with residents of those areas in February, Nimz and Ford began their field survey of existing properties that may have historical significance. But Nimz said they have gotten off to a slow start because of the weather.
"It's been frustrating," he said. We had pretty nice weather in February. We wanted to have our public meetings and then get started. Now in March, we've had that big snow storm and some bad weather. So it's pretty frustrating right now. We're ready to survey, and conditions aren't very good for it."
Mainly, he said, they look for buildings that are at least 50 years old and have what he calls architectural integrity, "so its appearance still resembles its appearance as a historic building."
"A building that might have some historic material in it, and maybe it's been encased in another more modern building, or it's been renovated so much that it isn't really visible as a historic building, is something that would have low significance," Nimz said.
But the things that are of most interest, he said, are buildings that reflect the early period of Douglas County history, when farming and agriculture were the predominant way of life.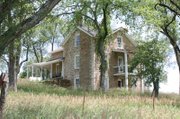 "That's interesting because in the 21st century, we don't really think of Douglas County as an agricultural county that much," Nimz said. "Agriculture is less and less of an important economic activity. There has been a lot of urban development and suburban development, and many of the people who live in rural areas are not farmers. They have other occupations. But throughout most of its history – say from about 1854 to maybe 1964 – agriculture was probably the most important way to make a living in Douglas County outside of Lawrence. And that's what the buildings show us."
Very few of the earliest homes that settlers built before and immediately after the Civil War survive today, Nimz said. That's because many were made of logs or hewed timber that did not survive the decades.
Stone houses were less common at the time, Nimz said, but more of them survive today because they are more durable. Often they were made out of rock that was quarried from within a few miles of the building site itself.
One such building in Kanwaka Township, he said, is a home built in 1869 by August and Caroline Wulfkuhle. Made out of native stone, it's built into the side of a hill - a common feature of German-American architecture - which provides access to a cellar both from inside the house and from outdoors.
"There are a number of farms and families with that name in Kanwaka Township around the Deer Creek area," he said. "It has the main stone area and a large wood frame addition on the rear. It's a house that has evolved, but it still has a high degree of architectural integrity."
Another is the Kanwaka Township Hall, a prominent sight on the north side of U.S. Highway 40 just west of Lawrence.
"That actually was built (in 1892) as the Union Congregational Church," Nimz said. "It served as a church into the late 1920s to about 1930 or so, and the congregation dwindled and it was sold to the township and has served as the township hall since the 1930s. That's one of the main community symbols of Kanwaka Township because the township is a kind of community."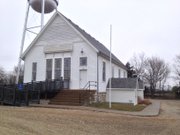 Nimz likes to point out that Kansas was settled during a time of rapidly changing technology which is reflected in the way homes and buildings were constructed.
During the territorial years, homes were built on stone foundations, usually out of native wood or stone. A few builders used so-called "soft brick" that individuals could make by hand out of the clay soil.
"But as soon as the railroads made it possible, from 1864 on, wood frame became the cheapest and quickest and most available material," Nimz said. "So most of the buildings in rural Douglas County will be wood frame."
And then around the turn of the 20th century - from about 1890 to 1910 - timber frames gradually went by the wayside and builders began using boards and planks nailed together to frame structures. Concrete also became readily available and replaced stone as the most common type of foundation.
"So if we find a timber-frame barn, it's almost certainly 19th century, and if we find a nail-frame barn, it's certainly going to be 20th century," Nimz said.
Nimz and Ford plan to complete their field survey of Kanwaka and Wakarusa Townships by June 30. During that time, they encourage area residents to suggest properties to be surveyed and provide historical information about them.
The completed survey will then be published and submitted to the Kansas State Historical Society.
People wanting to suggest properties for inclusion in the survey may email Nimz at dnimz@sunflower.com.
Copyright 2018 The Lawrence Journal-World. All rights reserved. This material may not be published, broadcast, rewritten or redistributed. We strive to uphold our values for every story published.