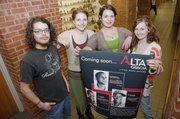 Contact KU and higher ed reporter Sara Shepherd
Have a tip or story idea?
---
More stories
Villa Altagracia, a small Dominican village, within weeks will be the source of crimson-and-blue Jayhawk T-shirts coming to the Kansas University campus.
But a few months ago, it sent something else to KU: a sophomore with a burning desire to make things different.
It took the efforts of others, and it may have been a bit messy, but now it's happening. Next month, the KU Bookstore will begin stocking KU-themed shirts from the brand Alta Gracia, from a factory in the Dominican Republic where employees are paid a wage they can live on and where a workers' rights group keeps watch.
Behind the move were a fiery student who wanted things to change right this second and a multimillion-dollar operation that needed to proceed with caution. And while the two did not always get along on the way here, this news is something they both can cheer.
It was only three months ago that Jaden Gragg, a KU sophomore from Shawnee, was preparing to spend two weeks of her winter break traveling to the Dominican Republic.
She'd gotten an email from an instructor of hers, Gisele Anatol, telling her about an opportunity: a study-abroad trip to visit with garment workers.
Anatol, an associate professor of English, taught Gragg in a class that examined the differences between animated Disney movies and the original stories on which they were based.
It was an honors class, and Gragg was a great student, Anatol said, but she also made it clear that she'd set her sights beyond her grades toward causes outside of her college-campus world — environmental issues, the rights of workers in other parts of the world.
"What was most striking to me was that she was really passionate about a lot of different things, and that's not always so obvious in students so young," Anatol said.
Gragg jumped at the opportunity and won a grant from the KU Honors Program to go.
So she spent some of her winter break in Villa Altagracia, a village that had once been home to a clothing factory run by a Korean-owned company. But since the new Alta Gracia opened a factory in the same building in 2010, making university-themed apparel mostly for college bookstores, things had changed.
Gragg stayed with a single mother who, in the old factory, had worked from 6 a.m. until late at night every day, leaving her children at home to feed themselves and do homework on their own, all while making too little money to buy medicine when they got sick.
But at the Alta Gracia factory, Gragg said, her host mother earned enough to move them into a comfortable house, got home early enough to make dinner, and could afford to send both her children to school.
"I can't imagine having to pick: Do I pick my son or my daughter to go to school?" Gragg said.
She heard from others in the village about how the Alta Gracia factory had changed things. With more money flowing, there were better houses, other businesses springing up, cleaner drinking water, more transportation available.
Alta Gracia is a for-profit venture, a brand owned by Knights Apparel of Spartanburg, S.C. Knights has been the No. 1 or No. 2 seller of officially licensed collegiate clothing the last three years in the United States, according to the Collegiate Licensing Company.
Its factory opened in 2010, partly in response to calls from student activists, with an agreement to pay its workers three-and-a-half times the minimum wage in the Dominican Republic, said Rip Scott, the director of the Alta Gracia brand for Knights Apparel. That's what a study determined to be a "living wage" for the area.
"Our No. 1 goal is to make sure our workers are taken care of," Scott said.
Since then, Alta Gracia clothes have spread to about 350 stores across the country, largely college bookstores, he said. Its prices are competitive, he said, and though its labor costs are higher, the company expects students and others passionate about workers' rights to buy its products.
Estella McCollum, the director of the KU Bookstore, said she first learned about Alta Gracia at a trade show in 2011. At that time, she said, other stores had reported some growing pains for the fledgling brand, including late orders.
But the company's mission certainly appealed to her, she said, and she didn't forget about it. And by January of this year, she received a forceful reminder.
Gragg returned to campus after her trip with a determination to educate others at KU about the fact that there was a way for them to buy Jayhawk clothing without worrying that it was stitched by impoverished, tired workers.
"I just don't think there's enough awareness around this issue," Gragg said.
She rounded up a group of about eight students, some friends and some new acquaintances, to form a KU chapter of the national group United Students Against Sweatshops. She also returned with a jar of hand-made passionfruit jam and a Spanish-language Disney coloring book, Anatol said, as thank-you tokens for the instructor who told her about the trip.
By the first week of the semester, Gragg and others were meeting with McCollum to discuss ordering some Alta Gracia clothing. Gragg called it "negotiating," but McCollum said the students made some initial demands that were, well, ambitious.
McCollum said they demanded the bookstore immediately switch 50 percent of its inventory to Alta Gracia clothing.
But the bookstore orders licensed products from about 150 different companies, and none accounts for more than 15 percent of its inventory, McCollum said. The bookstore's revenue was nearly $16 million in the 2012 fiscal year, which accounts for more than half of the revenue for the KU Memorial Unions, a nonprofit separate from the university. That revenue goes toward upkeep of Unions buildings, the Student Union Activities group and more.
The students, she said, weren't convinced, and they began protesting the store, holding signs outside the Kansas Union on Valentine's Day and coming into the store to talk to student employees about the issue.
Gragg said the protest was meant to be a bit light-hearted — their signs were decorated like valentines, and they gave cupcakes to the bookstore employees, she said.
"We want student employees at the bookstore to be on our side, as well," Gragg said.
McCollum said the tone was a little more confrontational.
"It was frustrating," McCollum said.
But even if things weren't moving fast enough for the students, McCollum said she assured them she would look into whether Alta Gracia would work as a supplier for the bookstore. And she did.
By early March, the Memorial Unions announced that the KU Bookstore would be stocking Alta Gracia clothes.
The bookstore has already made orders for the spring, summer and fall. The orders are a bit larger than usual for a first-time vendor, McCollum said, though of course far less than the 50 percent figure.
"It's a great company," McCollum said. "We're excited about it. We really are. But we have to be realistic about our business."
Scott said the KU order was typical of its college bookstore customers.
McCollum said the products are made of high-quality fabric, and while they're not cheap, their prices are in line with similar products at the bookstore. T-shirts will be about $20, sweatshirts around $40, and hooded sweatshirts around $50. They'll be available to purchase online at kubookstore.com.
The company offers six women's and seven men's products in all, she said, and all will have a "classic" look. What she hopes will help them sell, she said, is the story behind them: that buying one of these shirts could help create a better life for someone who'd otherwise be living poverty.
"I honestly think that it could grow, and I think that it can do well," McCollum said. "And we're planning accordingly."
A few things right now will keep the bookstore from making Alta Gracia a bigger supplier, she said: Its quickest possible turnaround time is about three weeks — not nearly fast enough for, say, a T-shirt celebrating a basketball championship — and it still produces a pretty narrow range of products, with no pants, jerseys, zip-up sweatshirts and other things.
McCollum said she expects the Alta Gracia products to arrive in mid-April. "Coming soon" signs — which include a photo of Gragg's host mother, Santa Elizabeth Abreu — are up in the bookstore.
Gragg said she was quite happy about the bookstore's order, even if she'd like to keep negotiating about the volume of Alta Gracia products.
She's also pondering her group's next move — possibly a push to urge KU to reconsider its relationship with adidas. The Workers Rights Consortium — the group that monitors the Alta Gracia factory, with representatives from U.S. universities and the United Students Against Sweatshops group — has accused the company of refusing to help pay millions of dollars in mandated severance to workers at an Indonesian factory after its owner fled.
A KU athletic apparel contract with adidas, worth about $3.3 million per year, is due to expire this summer.
Whatever the case, Gragg said, she doesn't intend to let up.
Neither she nor McCollum say that relations between the two have been warm and friendly. But both agree that this move is a victory, even if a multimillion-dollar bookstore with hundreds of moving pieces can't quite move at the speed of a young activist's marching footsteps.
And McCollum said she respects the ideals of Gragg and her compatriots.
"If we can help them channel it in the right way, they can do some awesome things," McCollum said, "and everybody will benefit."
But sometimes people who make change happen ruffle a few feathers along the way, said Anatol, Gragg's former instructor. And, she said, the world would be better off with more students who look beyond their textbooks and dorm rooms and find things out there in the world to care about.
"It is really inspiring, I think, to see someone so young who refuses to give up," Anatol said.
Copyright 2018 The Lawrence Journal-World. All rights reserved. This material may not be published, broadcast, rewritten or redistributed. We strive to uphold our values for every story published.