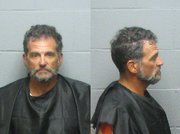 Lawrence crime, fire, courts coverage
Have a tip?
Contact Journal-World reporter Caitlin Doornbos:
In her mind, the man who kidnapped and sexually assaulted her after she'd worked a shift at the Ottawa Walmart 13 years ago was a larger-than-life monster.
He haunted her thoughts for more than a decade, turning a 16-year-old Williamsburg high school sophomore into a fearful woman who rarely ventured out after dark. After a decade, Angela — who asked to use a pseudonym — had given up hope that the man who attacked would ever be caught.
"OK, this is really not going to happen," she said once the case hit the 10-year mark.
But in 2011, a DNA match identified her attacker as Ralph E. Corey, a cross-country truck driver with a record a mile long.
"I was closing the chapter. ... Next thing I know, my book flew back open," she said.
It would take two more years, and two trials, but Angela finally saw her attacker convicted.
The experience has propelled Angela, now 29, into a career devoted to helping other sexual assault victims.
The attack
As Angela, then 16, ended her shift as a cashier at Walmart in Ottawa on Feb. 19, 2000, she got into her car and planned to meet up with some friends.
She didn't lock her door. An unknown man forced his way into her car. He beat her and pulled a stocking cap over her head. She couldn't see. He drove to two area parking lots and attempted to rape her.
All the while, Angela's cell phone, sitting in her glove box, was ringing. The caller was her mom, an Ottawa police officer, checking in on her daughter, per their usual routine.
"Oh, she's going to be in trouble," Angela's mom said after the phone went unanswered. She assumed her daughter might be getting into the type of trouble teenagers can get into at that age.
But after eight calls, mom started to worry.
The attack lasted about 30 minutes, and Angela was eventually broke free as her attacker ran off. She drove to the police station.
"When I called my mom, it was the worst sound," she said.
As much as everyone wanted to solve the case, the leads dried up, and the years went by. "The detectives who investigated the case collected as much evidence as possible and followed up every lead that was developed; all without identifying a suspect," said Adam Weingartner, an Ottawa police spokesman. "For the victim's mother ... it was difficult to watch because she wanted justice for her daughter."
Moving on
In the years following the attack, Anglea joined the U.S. Marine Corps, serving from 2002 to 2010, including a deployment to Iraq. She married, and had two children.
All the while, she said, she dealt with the constant fear of being attacked again. Those were fears she worried she'd pass along to her kids.
"I was getting to the point where I was going to break," she said.
In 2008, Angela heard about a sexual-assault advocate program in the Marines. The idea of helping other victims intrigued her, so she went through the training.
Her last year in the Marines, she counseled other sexual-assault victims. Being able to tell victims that she, too, had been assaulted made a huge difference. "They would open up and tell me what happened," she said.
Angela left the Marines, moved back to the Kansas City area, and got a job as a nursing assistant at an area hospital. That's where she heard about Sexual Assault Nurse Examiners, or SANE nurses, who handle post-assault forensic examinations.
After learning more about the program, she decided to go back to school to get her nursing license, and plans to become a SANE nurse, using her experiences to help other victims.
The break
Ottawa police never gave up on the case, Weingartner said, even as years went by.
The big break came in 2011 when the DNA evidence collected during the case was matched in CODIS, the DNA databank, with Corey, who had numerous other convictions, including other sex crimes.
The woman's mom, the Ottawa police officer, said she was shocked when a fellow officer showed her the results. "I couldn't believe it," said the mom, who called Angela with the news.
The call opened up old wounds, and marked only the start in a lengthy legal battle. "It was an overwhelming amount of emotion," Angela said.
However, she was determined to see the case through. Based on the DNA match, Corey was convicted. That conviction, however, was overturned because of juror misconduct.
Prosecutors talked about a plea deal to spare her another trial, but Angela was determined to put Corey behind bars for as long as possible. "By the second trial, I was mad," she said.
She stuck through it and, again, Corey was convicted of kidnapping, attempted rape, sexual battery and criminal threat. At his sentencing, Corey declined to speak.
But Angela, standing just a few feet from Corey, addressed the court and asked for the maximum sentence. Judge Eric Godderz obliged, and ran the five convictions in the case consecutively, for a total of more than 33 years. With good time credits, Corey, now 53, won't be eligible for parole until he's nearly 80 years old.
After seeing Corey in court, Angela's image of her mystery attacker had been replaced.
"He looked wimpy, scared, hopeless, sick," she said. "I feel like I can wash my hands of it."
More than a decade later, Angela's mom said she hopes something positive might come of the attack, as her daughter works to help other survivors deal with the trauma her family knows all too well.
"I think she's very strong," she said. "She's able to overcome."
Copyright 2018 The Lawrence Journal-World. All rights reserved. This material may not be published, broadcast, rewritten or redistributed. We strive to uphold our values for every story published.