Monday cancellations
• Cornerstone Southern Baptist Church food pantry will be closed Monday.
• Ottawa USD 290 will not have classes Monday.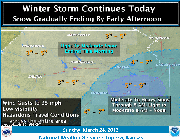 Winter Weather
Winter weather information
The Lawrence area received four to seven inches of snow, as a another winter snow storm hit Northeast Kansas Saturday night and Sunday morning, according to estimates from the National Weather Service.
The bulk of the snow fell Saturday night and caused some treacherous driving conditions Sunday morning, when local emergency crews were busy responding to multiple incidents of vehicles sliding off area roads.
The NWS warned of continued problems on roads Sunday caused by blowing snow and high winds.

Megan Gilliland, city of Lawrence spokeswoman, said crews have been prepping Lawrence roads since Thursday, and additional units have been called in. Crews were working to open downtown roadways in anticipation of traffic during the KU men's basketball game.
Copyright 2017 The Lawrence Journal-World. All rights reserved. This material may not be published, broadcast, rewritten or redistributed. We strive to uphold our values for every story published.