Winter Weather
Winter weather information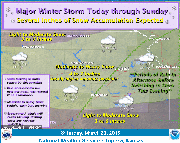 It looks like Lawrence is in for a late-season weekend snowstorm.
The National Weather service is predicting a snowstorm will move into the Lawrence area Saturday evening, bringing with it 5 to 7 inches of snow.
Light snowfall mixed with rain should begin around 3 p.m. before changing over to moderate and sometimes heavy snowfall in the early evening. Winds of 10 to 20 miles per hour out of the north with gusts of 28 mph are expected. The storm will continue through the night and into Sunday morning.
The weather service has issued a severe winter storm warning for Douglas County, running from Saturday afternoon until 1 p.m Sunday.
Lawrence road crews are pretreating and preparing roads for the storm and will remain on call to clear the precipitation when it falls, Lawrence spokeswoman Megan Gilliland said in a press release.
Copyright 2018 The Lawrence Journal-World. All rights reserved. This material may not be published, broadcast, rewritten or redistributed. We strive to uphold our values for every story published.