Candidate profile: Bob Byers
• Born: July 14, 1954, New Madrid, Mo.
• Address: 1707 E. 21st Terr.
• Profession: Child support enforcement manager, Kansas Department of Children and Families
• Education: B.A., social work, Pittsburg State University; M.S.W., Kansas University
• Family: Wife, Bonnie; one son.
Bob Byers first got involved in the Lawrence school district by working on its Equity Council, a group established to address racial disparities and achievement gaps in the district.
Now, as he seeks a second term on the board, he believes the district has made a lot of progress, but he says more work still needs to be done. That includes passing a proposed $92.5 million bond issue, which he says is needed to achieve equity in school facilities throughout the district.
"We made great strides in battling the education gap between our students," Byers said. "We made strides — especially if we're lucky enough and the bond passes — in dealing with equity in our facilities. Those would be the two main things I would want to be part of continuing because I think they're very important."
A native of southeast Missouri, Byers moved to Lawrence in 1977 with his wife Bonnie and son Christopher in order to attend graduate school at Kansas University. He earned a master's degree in social work and has been in Lawrence ever since, working for the Kansas Department of Children and Families, formerly Social and Rehabilitation Services.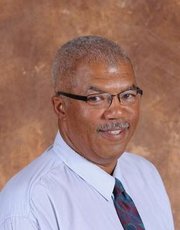 His first four years on the board were marked by deep cuts in state funding for public schools, which prompted program and staff reductions in the district. That also led to debates on the board over the possibility of closing and consolidating a number of older elementary schools in east and central Lawrence.
In the end, the board opted not to close any neighborhood schools, and instead decided to seek a bond issue to upgrade and expand existing schools, enhance technology throughout the district and expand career and technical education programs offered through the city's high schools.
But even if those projects win voter approval April 2, Byers said he believes there will be more budget challenges ahead because of inadequate state funding.
"I think we're headed back into some of the rough times," Byers said. "For me, that means that those of us who have experience with board issues and understand financing need to stay involved, if at all possible."
Byers said one of his biggest concerns about the way school boards typically make budget cuts is the tendency to make the first cuts in administrative and non-classroom programs, such as social workers, librarians and guidance counselors — things he refers to as "soft services."
"You have to remember that those soft services are really what keep students in those classrooms," he said. "Gone are the days when, if you had a special needs child, you bundled him or her off to a state facility to take care of them. Nowadays, those kids are served in most of our classrooms, and those soft services are what support the teacher in providing education to that child. So when you're doing budget cuts, you have to be mindful that cutting those affects how teachers can educate all children."
Byers said he is a strong supporter of collective bargaining rights for teachers, and he opposes legislation that was offered in the Kansas Legislature this year — but was shelved this week and referred for an interim study — to narrow those bargaining rights.
Supporters of that bill said it would give school boards and administrators more flexibility in making budget decisions. But Byers, who has been on the board's negotiating committee the past three years, said he doesn't believe flexibility been an issue in Lawrence.
"My view is, I don't see collective bargaining as hindering us from moving money to where we need it to go," he said. "The bigger issue nowadays is we don't have the money to move, even if we wanted to."
Byers said he also opposes other education-related measures that have been debated in the legislature this year, including expansion of charter schools.
"Especially in rough budget times, it's difficult for me to see why we would remove any funding from our regular community schools," he said of the charter school initiative.
He also said he opposes legislation to require holding back third-grade students who fail to pass the state reading assessment, "because it's punishing children and it'll create more staffing needs."
"If a child needs to have greater education support in order to meet that education requirement, I want to provide those supports, and holding him or her back does not necessarily provide those supports," he said.
Copyright 2018 The Lawrence Journal-World. All rights reserved. This material may not be published, broadcast, rewritten or redistributed. We strive to uphold our values for every story published.