Winter Weather
Winter weather information
It may be spring, but Lawrence could still experience some significant winter weather, according to forecasts from the National Weather Service.
A "light to moderate snow" fell across the region Thursday, starting around 9:30 a.m., before tapering off in the afternoon.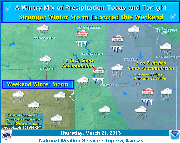 A more substantial second round of winter weather, which could bring four to six inches of snow, is expected to hit the region Saturday morning and continue into Sunday. Winter weather watches have already been issued for areas of central Kansas and will likely extend into northeast Kansas as the storm approaches.
"Again the track the storm takes is going to be key," National Weather Service meteorologist Scott Whitmore said. "The main thing to stress is everybody needs to be up on their travel plans this weekend. It's a sizable system. If you are going to be traveling anywhere you need to check the forecast. "
Whitmore added, for those frustrated by yet another round of snow, that the snow is not likely to sit on the ground very long.
Megan Gilliland, city of Lawrence spokeswoman, said city crews came in early Thursday morning in preparation for possible snowfall, and will remain on-call as storms develop.
Copyright 2018 The Lawrence Journal-World. All rights reserved. This material may not be published, broadcast, rewritten or redistributed. We strive to uphold our values for every story published.