Candidate profile: Vanessa Sanburn
• Born: April 9, 1981, Wichita.
• Address: 765 Ash St.
• Profession: Facilitator, family-based sexuality education programs, Lawrence-Douglas County Health Department.
• Education: B.A., biology, Wichita State University, 2005; Master's in Social Work, Kansas University, 2011.
• Family: Husband, Jake Lowen; two daughters.
Lawrence school board president Vanessa Sanburn stood in somewhat unfamiliar territory this week, testifying before a Kansas legislative committee against a bill to repeal the state's in-state tuition program for certain children of undocumented immigrants.
"Last year, our board took a position on that bill," Sanburn said in an interview afterward, "and then I was asked to come back again and testify on behalf of our board about it since it's come back up for debate. Our board was unanimous last year in our opposition to overturning the law."
That was just one example of how Sanburn - and, at times, the entire Lawrence school board - often takes on issues that go beyond the day-to-day management of the local district.
In February, Sanburn and the board voted unanimously to send a letter to Gov. Sam Brownback and legislative committees opposing a bill that would restrict the collective bargaining rights of teachers.
And in public forums this campaign season, she has talked about the need to engage voters statewide in advocating for increased state funding for public schools.
"I do believe that in our family, we value democracy and we value political engagement in the process," Sanburn said. "I really do believe that democracy is only as strong as the people willing to get out and work on making sure their voices are heard."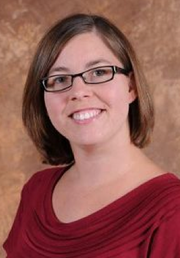 Political involvement is indeed a family tradition for Sanburn. Her husband, Jake Lowen is a senior partner in Kansas Grassroots, a political consulting firm that also includes Mike Gaughan, the Democratic chairman of the Douglas County Commission.
Sanburn herself is not active in the firm, although she says grassroots organizing is a big part of her own political strategy on the school board.
Outside the board, she works part time facilitating family-based sexual education programs at the Lawrence-Douglas County Health Department. Most of her time, though, is devoted to raising their two daughters, the youngest of whom was born in January.
Sanburn said she learned a lot in her first term on the board, a period that included deep budget cuts in the wake of the economic downturn. That led to debates over closing and consolidating some neighborhood schools, and is now culminating in a proposed $92.5 million bond issue - a proposal she strongly supports - most of which would go to upgrade and modernize schools the board chose not to close.
"I feel like the the way that we went through the budget cut process four years ago, I think there's a lot of improvement that can be made from the way we handled it," she said. "Not that there were going to be tons of easy things to cut to address those issues, but the way we engaged the public in that process, I think I'd want to change. I learned a lot about how to engage the public in the last four years."
Looking ahead, Sanburn said she wants to continue working on equity issues in the district and closing achievement gaps among economic and ethnic sub-groups.
"I think continuing our equity work is a big priority of mine," she said. "We've made significant progress in the last four years in closing the achievement gap. Certainly continuing that work is something I want to see happen."
But Sanburn said the biggest challenges the next board is likely to face will be about funding that comes from the state.
"In my time on the board I've tried to do a lot of work to help the public understand and be able to successfully advocate for public education," she said, "and it looks like that work's going to have to continue, unfortunately, based on decisions that are being made in the Legislature."
"Honestly, I haven't come up with a list," Sanburn said about future cuts that may be needed. "What I will do is I will look for the administration to provide recommendations on what they think would be the least harmful, and then also hear from the community about what they think would be least harmful and try and put it together there."
Sanburn said she's a strong advocate of collective bargaining rights for teachers. And she disagrees with those who say bargaining rights should be narrowed to give districts more flexibility in deciding where to put resources.
"They're saying we need all kinds of flexibility, but we also need resources," Sanburn said. "If they actually gave us the resources that we need to pay (teachers) what they deserve, and to provide staff and programming and all of the things that help ensure good education for students, then we wouldn't have to worry so much about this."
She also said she does not see a pressing need to expand charter school opportunities in Lawrence.
"Honestly, I think until we're at a place where we are adequately funding our public education institutions as they are, we shouldn't be looking to charter schools or any kind of program that would draw money away from the already-underfunded system," Sanburn said.
Copyright 2018 The Lawrence Journal-World. All rights reserved. This material may not be published, broadcast, rewritten or redistributed. We strive to uphold our values for every story published.