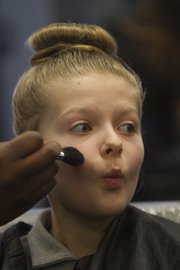 Evie Parker, a member of the Boys & Girls Club of Lawrence, entered Marinello Schools of Beauty on Wednesday a regular 9-year-old girl. She left a princess.
The cosmetology school's first-ever Day of Beauty event aimed to make girls who might not have otherwise had the opportunity look and feel as beautiful on the outside as they are on the inside.
If you went by Evie's attitude alone, you would have to say the event was a smashing success. Her aura seemed to glow as 20-year-old Bria Morrison styled her hair into a princess bun. She said she felt like the title character in the 1998 Disney movie "Mulan."
"It's like where she goes through and gets her hair done. I feel like her right now, walking from station to station," Evie said, as she held her hand out to have light-blue nail polish applied, a blue flower in her hair. "I'm a total girly girl when it comes to this kind of stuff."
Marinello Schools of Beauty held the companywide event as a way to celebrate Women's History Month — "It's girl power!" one of the youngsters could be overheard saying — while, at the same time, giving back to the community. Roughly half a dozen fourth- and fifth-graders from Lawrence elementary schools got to celebrate spring break by getting their hair, nails and makeup done. They were like (female) kids in a candy store.
"We wanted to treat them to a 'day of beauty' so they could enjoy themselves and relax and learn how important it is for personal hygiene to keep your nails and hair clean," said Ashley Dick, outreach coordinator for Marinello Schools of Beauty's Kansas region. "A lot of these girls come from backgrounds where they don't have the opportunity to have this done. We wanted to make them feel good about themselves."
She added that the aspiring cosmetologists also ate lunch and spent the day with the girls. "We wanted our students to mentor and be role models," Dick said.
The salon smelled of hair spray and heated-up hair Wednesday as dance music pounded lightly through the speakers. The students poofed, straightened, curled, braided and did up the young ladies' locks, helping them pick out hairstyles and makeup colors.
"Some of the kids were pretty apprehensive at first. I'm not sure any of them have been through an experience like this," said Monica Dittmer, director of operations for the local Boys & Girls Club, noting how talkative many of the girls had become just a little more than an hour into the day. "It's an opportunity they may not have otherwise had. It gives them experience, so they won't be so nervous in the future about hair and nails and going to a salon."
Nicole Piekalkiewicz, 10, wasn't nervous about the event beforehand. Quite the opposite, in fact.
"I was jumping up and down," she said, observing her curly locks in a mirror. "It looks great. I love the bangs."
Ajala Anavberokhai, group leader for the Lawrence Boys & Girls Club, said the day presented each of the soon-to-be-middle-schoolers with the chance to "be a girl."
"It helps them with self-esteem, to be confident in who they are and what they look like," she said.
After her own pedicure — "They offered," she said — Anavberokhai did her part to improve the adolescents' self-confidence.
"You look so good. This is gorgeous," she told one. "You look so adorable. You look like a little ice-skater," she said to another.
One of the cosmetology students then complemented Mackenzie Moore, a 10-year-old who had just had her do styled into a bow. "Your hair looks so good!" she told her.
"Thanks," said Mackenzie, walking funny in post-pedicure flip-flops, her arms folded behind her back, a smile tattooed across her face. "I like all the hairstyles they do. They do a really good job at it."
Halfway through the Day of Beauty, 10-year-old Lexi Williams wasn't sure if she'd be getting her hair braided or straightened. But she was happy to be taking part in the event either way.
"I like getting my hair done and my nails done and my makeup done," she said. "And it doesn't hurt like when my mom does it."
Copyright 2018 The Lawrence Journal-World. All rights reserved. This material may not be published, broadcast, rewritten or redistributed. We strive to uphold our values for every story published.