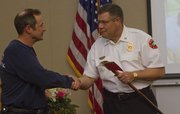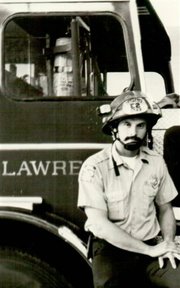 It's been a long time since the Royal College shoe store, 835 Massachusetts St., caught fire, but Allen Johnson remembers it well.
He was a young firefighter then, on a warm Saturday night, climbing a ladder to the roof of the burning store with a fire hose. Several fire crews gathered below, where flames filled the building's basement. This was Johnson's first big fire, in his third year with Lawrence's fire department, and the last thing he remembers is the firefighter next to him falling down. Then Johnson was out, and he woke up later in the hospital. He was just 20 years old.
When Johnson's father, Sheriff Rex Johnson, arrived on the scene of the fire, he found his son at an ambulance being treated for smoke inhalation. This was 1977, the first Royal College fire, years before the store burned again in 1982 and owner Thomas H. Black was unsuccessfully prosecuted for arson. It was also years before firefighters started wearing air packs regularly.
More than 35 years of firefighting later, Capt. Allen Johnson of Lawrence-Douglas County Fire Medical is retiring at the age of 56. The longest-serving member of the department, he has seen a lot of fires in that time, and a lot of changes.
He has watched the city grow — Kasold was the last paved road to the west when Johnson joined the department — and raised sons and daughters to take up careers in nursing and law enforcement, a tradition he attributes to his father the sheriff and his firefighter buddies.
The last to ride the tailboard
"I wanted to do something to help people," Johnson said. "People call you on their worst day. It's a public service way of life."
In his early life, when Rex was still sheriff, Johnson grew up in a house attached to the old Douglas County Jail. His mother cooked meals for the inmates, and his father was always running out at odd hours for crimes and accidents. Up until he graduated from Lawrence High School in 1974, Johnson said, he thought he would be a lawman like his father.
"My dad told me to get a job," Johnson joked.
He couldn't join law enforcement because he wasn't 21 yet. But at the time, he could join the fire department. He knew and admired firefighters like Capt. Bob Coleman and Monty Pearson, so he applied and was hired.
In those days, there was no three-month training as there is today.
"I showed up the first day at 7 o' clock in the morning, they gave me uniform, and told me, 'Ride on the truck and don't fall off,'" Johnson said. "I'm the last one that rode on the tailboard of those trucks. Things were different back then."
In those days, the department just fought fires, so it was a great change when the department took on medical and emergency rescue duties. And Johnson's first boss, retired Fire Capt. Lloyd Hammerschmidt, said Johnson was one of the captains who helped steer the department through that transition.
"I always could count on him," Hammerschmidt said. "You work 24 hours, and it's kind of like a family. You know each others' problems, you horse around. We had a lot of great times."
"To do that, you have to like to learn," Hammerschmidt said. "And he liked to learn and, later, to teach."
Hard memories
This week, the firefighters of Lawrence and Douglas County celebrated Johnson's retirement and, at the same time, their history. Fellow captains have been busy assembling old photographs and video of their most senior captain, and the thing every firefighter says about Johnson is that he was around a long time and saw a lot of big fires.
Sometimes, he said, it weighs on him.
There were bad fires in the late 1970s, such as the Pier 1 explosion in 1977, when the store at the northwest corner of Eighth and Massachusetts streets was blown apart by a natural gas leak, killing two men at the spot where Noodles and Company now stands. And there was the fire at the Yuck Up and Yuck Down bar near Ninth and Iowa streets. And Johnson remembers when firefighter Mark Blair died in an intentionally set fire at a house in the 3000 block of Rimrock Drive in 1986.
"That was hard," Johnson said. And there were other deaths over the years, too.
"A lot of them were kids," he said. "I try not to think about it too much."
'Bigger than life'
Johnson's daughter Kelly Mondi remembers the good times, and some of her best memories were of her father visiting her second grade classroom for fire department "Stop, Drop and Roll," safety presentations, instilling awe in the children when he arrived in the firetruck and in his firefighter gear.
"I would just be giddy," Mondi said. "He was bigger than life. You always think your dad is special, but this was when I realized he was different."
When Johnson's brother, David, was killed in a car accident in 1995, Johnson raised his brother's sons, Colton and Jake, as his own. Now, Colton is a deputy with the Shawnee County Sheriff's Office, and Johnson's son-in-law, Greg Murray, is a firefighter in Lawrence. Mondi is a nurse, and her brother Kyle Bulmer is a police officer in Baldwin City.
In retirement, Johnson said, he hopes to make up for all of the baseball games and birthdays he missed during his career. He has 10 grandchildren, and Johnson looks forward to watching his adopted son, Jake, play baseball at Allen Community College in Iola.
Then, too, he has Rex, 81, and his mother, Shirley, 80, to keep on eye on. The former sheriff said he's looking forward to seeing his son more.
"We're real proud of him," Rex Johnson said. "He's a good kid."
Copyright 2018 The Lawrence Journal-World. All rights reserved. This material may not be published, broadcast, rewritten or redistributed. We strive to uphold our values for every story published.