Kansas government
Have a story idea?
Contact Journal-World reporter Peter Hancock: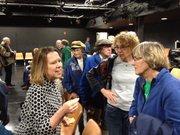 As a recent convert to the Democratic Party, former state Sen. Jean Schodorf told Douglas County Democrats on Saturday that the way to get moderate Republicans to switch parties is to talk about public school education in the state of Kansas.
"Moderates are very aware of that," said Schodorf who served in the Senate for 12 years before being defeated in the Republican Party primary last August by a candidate who was backed by the Kansas Chamber of Commerce and benefitted from advertising by Americans for Prosperity.
Schodorf, of Wichita, said public schools have been hammered in the current legislative session with bills creating mandates without providing funding, and measures aimed at limiting the ability of teachers to participate in the political process.
"Education is at the forefront of all of this," said Schodorf, the former chairwoman of the Senate Education Committee.
She said that after moderate Republicans were swept out of power in the Senate, she decided the GOP had gone too far to the right for her, describing the Republican Party as "the party of suppression."
Schodorf switched to the Democratic Party and says now the major goal of Democrats should be to defeat Gov. Sam Brownback in 2014.
She cited a quote from Brownback in a February article by the Wall Street Journal where the governor explained his proposals to cut the income tax as a way to increase economic development and shrink government.
In that article, Brownback says "My focus is to create a red-state model that allows the Republican ticket to say, 'See, we've got a different way, and it works.'"
Schodorf said that quotes shows, "Everything he is working for is for the Republican Party and not the people."
Schodorf also cited a comment from Senate President Susan Wagle who defended a bill eliminating teachers' voluntary paycheck deductions for political purposes, saying that was tax money.
Schodorf said that money belongs to the teacher to do what she or he wants to do with it.
"These people think differently than we do and this is why I became a Democrat," she said.
Margie Wakefield, chairwoman of the Douglas County Democratic Party, said proposals by Republicans to cut higher education and eliminate a college savings program for low-income families were causing some in the GOP "to question how they can still be Republicans in the state at this time."
Democrats are vastly outnumbered by Republicans in Kansas.
Republicans hold all statewide elected offices, both U.S. Senate seats and all four U.S. House seats, as well as large majorities in the Kansas Legislature.
As of October, there were more than 780,000 registered Republican voters, nearly 45 percent of the state total; approximately 508,000 unaffiliated voters, for 29 percent; and 440,000 Democrats, which is just over 25 percent.
Copyright 2018 The Lawrence Journal-World. All rights reserved. This material may not be published, broadcast, rewritten or redistributed. We strive to uphold our values for every story published.