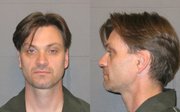 Lawrence crime, fire, courts coverage
Have a tip?
Contact Journal-World reporter Caitlin Doornbos:
A 40-year-old Lawrence man was sentenced to more than 12 years in prison Friday for stabbing his wife in 2011.
Timothy L. Foster pleaded guilty to attempted first-degree murder in January. He was sentenced to 155 months in prison Friday in Douglas County District Court.
Foster's then-wife — they have since divorced — survived the November 2011 attack and said in court Friday that she counted herself lucky to be alive.
She and Foster, who had been married for 18 years, had moved to Lawrence from Tonganoxie with their two children about six months prior to the incident, which took place at the family's home in the 500 block of John Doy Court, near Peterson Road and Kasold Drive. She was taken to Stormont-Vail Regional Health Center in Topeka in serious condition after the incident, according to police.
Foster had stabbed his wife nine times, according to prosecutors, tried to smother her with a pillow and choked her with a cord. She said she still suffers physical symptoms from the injuries, including a disabled left foot that makes it more difficult to drive, numbness in the right side of her body and psychological trauma that has produced "a journal full of nightmares."
Foster's defense attorney, in arguing for a reduced sentence of 10 years, presented evidence Friday that Foster suffered from mental disabilities, including brain damage caused by an unsuccessful suicide attempt years before the attack. He said Foster experienced paranoid delusions and manic states that affected his judgement when he stabbed his wife.
Foster's ex-wife said she didn't see those symptoms when he attacked her.
"What I saw that day was cold, calculated decision-making," she said. "That will never make sense to me, and that's the worst part."
In September, Douglas County District Court Judge Paula Martin reviewed a mental health evaluation performed on Foster and ruled that Foster was competent for trial.
Martin said she did not find sufficient cause to depart from state sentencing guidelines and sentenced Foster to 155 months in prison.
Copyright 2017 The Lawrence Journal-World. All rights reserved. This material may not be published, broadcast, rewritten or redistributed. We strive to uphold our values for every story published.