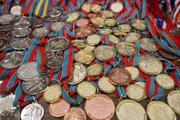 Hundreds of trophies and medals filled six tables Thursday night in the Coffin Sports Complex on the Haskell Indian Nations University campus.
The display was part of a ceremony honoring the achievements of Lawrence powerlifter Brady Tanner. On Saturday, Tanner will become the first Special Olympian inducted into the American Indian Athletic Hall of Fame in Kansas City, Mo., joining the likes of Jim Thorpe and Billy Mills.
But for all his achievements — including three gold medals from the 2011 World Special Olympic Games in Greece and numerous national titles — Tanner's attitude was the attribute most mentioned by event speakers.
"When the creator gave him to the Tanners, he was a gift," Haskell administrator Stephen Prue said to the crowd of Tanner's family, friends, Haskell students, athletes and Lawrence law enforcement gathered. "Not only was he a gift to the community and the Haskell family, he was a gift to the world."
Brady Tanner, 32, was born with Rubinstein-Taybi syndrome, a disease that slows growth and mental development.
"He started out weighing 4 pounds, he didn't walk until 3 and talk until age 6," Brady's mother, Janie Tanner, said. "The fact that he could overcome things and achieve this, it's pretty amazing to me."
Brady has difficulty speaking, but it was hard to miss his sentiment as he thanked the crowd for all the help they have given him.
"Everyone here was so important to him," his father, Gary Tanner, said. "He feeds off of them. (The honor) is an accumulation for all of his efforts and everyone in his life who has supported him, even if it was a pat on the shoulder."
While the community has cheered him on over the years, it was Brady's hard work and drive to be his personal best that made his achievements possible.
For the past 12 years, he has been lifting weights at the Haskell gym. Lately that means two-hour workouts, four times a week. Such workouts have yielded impressive results. His personal record for dead-lift is 575 pounds, while squat is 625 pounds and bench-press is 450 pounds.
"He'd come in and lift the craziest weight you'd ever seen, probably more than anyone that's been in here," said Cody Wilson, a former Haskell football player who lifted with and coached Tanner. "And all he'd want to know is if he did good. 'Yeah Brady, you did amazing.'"
Tanner began lifting after another Haskell football player, Ben Baker, noticed his talent when he was with team members in the weight room. At the time, Tanner was a ball boy for the football team and his father was the head football coach.
Gary Tanner said he knew his son had a gift after his first lift. At Brady's first powerlifting meet in Special Olympics, he won all the events he entered. From there, Gary said, Brady had to set personal goals "because he was so far above his competitors."
Brady started competing nationally and bringing home the hardware. His career highlight came at the 2011 World Special Olympics Games when he received gold medals in overall weightlifting, dead-lift and bench-press, as well as a silver medal in squat.
"Brady never says, 'I can't do it,'" his mother said. "He never says no. He always continues to try to do his best, even if it's hard. He always does it with a smile and is always willing to learn."
This attitude carries over into other aspects of his life, from playing basketball and softball to his work as a dishwasher at Kansas University.
Brady said he appreciated being inducted into the American Indian Athletic Hall of Fame.
"It feels good," he said with a smile. "I am happy."
Copyright 2018 The Lawrence Journal-World. All rights reserved. This material may not be published, broadcast, rewritten or redistributed. We strive to uphold our values for every story published.