New York — Camouflage-patterned shorts. Neon-trimmed tops. Those special uniforms Cincinnati trotted out at the Big East tournament were pretty eye-catching, to say the least.
"The most important thing is the recruits think they look great," Bearcats coach Mick Cronin said with a smile.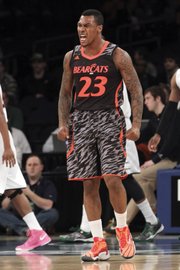 Six college basketball teams are sporting the new Adidas digs during March Madness, and Cincinnati became the first men's squad to break them out Wednesday in a 61-44 victory over Providence at Madison Square Garden.
"We love them," said junior guard Sean Kilpatrick, who scored 17 points.
When two of his players were asked by a reporter if the garish uniforms felt better than they looked, Cronin stepped in with a snappy response.
"You notice, if you guys were going to go out tonight, they wouldn't dress like you, either," the coach said, drawing laughs. "They think they look good."
Baylor, Kansas, Louisville, Notre Dame and UCLA also planned to wear the specially designed outfits, which feature bright colors and unusual print.
Baylor, Louisville and UCLA even agreed to have short sleeves on their jerseys — an idea Cronin turned down for his team. Adidas debuted a short-sleeve basketball shirt with the NBA's Golden State Warriors in February.
Alternate uniforms have become big business in college sports, from Oregon's fluorescent tones with Nike to Maryland's loud designs with Under Armour.
Adidas unveiled special lightweight basketball uniforms for Cincinnati, Louisville and Baylor at tournament time last season, and players quickly took a liking to them.
Donning their unique digs, Louisville beat Cincinnati in the Big East championship game and then advanced to the Final Four. The Bearcats reached the round of 16 in the NCAA tournament.
Male athletes, however, aren't the only ones setting fashion trends in college sports. Women's teams are also involved.
The Notre Dame women's basketball team wasn't thrilled with the new uniforms it debuted at the Big East tournament Sunday.
The new get-ups featured a camouflage print on the shorts and bright lime green lettering on the top. The Irish wore the new jerseys during a quarterfinal win over South Florida, but went back to their regular uniforms for the semifinals and championship game.
"I wasn't (a fan)," guard Kayla McBride said, shaking her head in disapproval.
Irish coach Muffet McGraw, who acknowledged she liked the lime green color, said after the victory that the team would vote on whether it would wear the special uniforms again. Clearly, her players didn't like them.
"No comment," star guard Skylar Diggins said.
Notre Dame spokesman Chris Masters said the team was contractually obligated to wear the uniforms for one game and then could decide on a game-by-game basis whether to go with them again.
The Louisville women's team sported the special uniforms in both Big East tournament games it played and plans to wear them in the NCAA tournament.
"The red and white looked great. Ours looked really good and the uniforms were really light. The kids liked them a lot," coach Jeff Walz said.
Copyright 2018 The Associated Press. All rights reserved. This material may not be published, broadcast, rewritten or redistributed. We strive to uphold our values for every story published.