A 43-year-old Lawrence man was arrested early Thursday morning in connection with a break-in at Lawrence High School.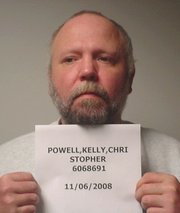 Lawrence crime, fire, courts coverage
Have a tip?
Contact Journal-World reporter Caitlin Doornbos:
Kelly Christopher Powell was arrested at Lawrence High School after police responded to a report of a break-in about 3 a.m., said Sgt. Trent McKinley, a Lawrence Police Department spokesman. A resident living near the school, awakened by loud banging noises, reported to police that a man was hitting the building's east entrance doors with a trash can.

When several officers arrived at the building, the man had discarded the trash can and kicked out the glass in one door, McKinley said. Officers caught the man as he entered the building, with one leg dangling out of the entrance, and arrested him.
McKinley said it was unclear what the motive behind the break-in was, and Powell, when arrested, declined to speak with officers.
Powell was booked into Douglas County Jail, where he remained Thursday with bond set at $200.
Copyright 2018 The Lawrence Journal-World. All rights reserved. This material may not be published, broadcast, rewritten or redistributed. We strive to uphold our values for every story published.