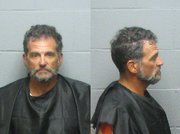 A former truck driver was sentenced to more than 33 years in prison Tuesday in Franklin County District Court in connection with a February 2000 kidnapping and sexual assault of an Ottawa teenager.
Ralph E. Corey, 53, was convicted in October — for the second time — of five charges in the case, including aggravated kidnapping, attempted rape, sexual battery and criminal threat.
The sentencing brings some closure to a case that went cold for more than a decade, after a 16-year-old girl was kidnapped in the parking lot of the Ottawa Walmart as she ended her work shift. The girl was then driven to several locations in Ottawa and sexually assaulted.
The victim, now 29, addressed the court at Tuesday's sentencing, asking Judge Eric Godderz to give Corey the maximum sentence.
"Someone violated me in a way no one could imagine," said the woman, standing just several feet away from Corey, who declined to comment at the hearing.
Godderz sentenced Corey to 272 months on the kidnapping charge, 59 months in the attempted rape, 32 months on both of the sexual battery counts and six months for criminal threat. Godderz ordered the sentences to run consecutively, or one after another, for a total sentence of 401 months.
Godderz denied a motion from Corey's attorney, John Boyd, to depart from sentencing guidelines and sentence Corey to just 10 years. In his decision, Godderz cited Corey's extensive criminal history, which included more than 20 past convictions and at least one other sexual offense.
Franklin County Attorney Stephen Hunting said he was pleased with the outcome.
"We're thankful that the family hung in there," Hunting said.
A jury had found Corey guilty in July, but after the verdict, a juror told a court employee that the juror accessed information about the case from a smartphone during the trial — in violation of the judge's instruction — and a mistrial was declared.
No arrests had been made in the case until 2011, when Corey's DNA profile in the national DNA databank matched evidence collected at the scene. When the profile matched, Corey was serving time in a federal prison in Arizona on counterfeiting charges. Corey also spent time in a Virginia prison after he was caught smuggling 500 pounds of marijuana through Virginia in a semitrailer.
Copyright 2018 The Lawrence Journal-World. All rights reserved. This material may not be published, broadcast, rewritten or redistributed. We strive to uphold our values for every story published.