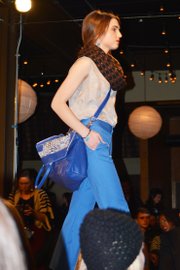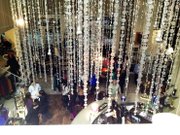 Anyone interested in fashion knows that September and February kick off two important times in the fashion world best known as fashion week.
Although today the Midwest isn't exactly known as the fashion hub where trends are born, Kansas City Fashion Week has innovatively revived the fashion scene with fresh new designers showcasing everything from edgy styles to bridal wear and everything in between.
The five-day fashion extravaganza began with the kick-off party on Feb. 27 at Garment District Boutique with a fashion show styled by local fashion bloggers.
By the way, I recommend you check out this place in Kansas City's Power and Light District. It's a beautiful space with trendy yet affordable clothes, shoes and accessories for men and women. Oh, and did I mention they have a full bar built right in the middle?
My sister, Elizabeth, and I had the opportunity to style a few models with clothing and accessories from the boutique. Kansas City's most stylish watched the models strut through the boutique while sipping drinks and socializing.
We were also able to catch the shows on Friday night at 28 Event Space, 1300 W. 28th St., Kansas City, Mo., and walked away with new trends to try for the upcoming season.
Everything from avant-garde to ready-to-wear styles walked the runway. Statement trends stood out to me, from the high-waisted trouser pants to the rock-glam jumpsuit with leather trim detail.
Jumpsuits are not typically part of my everyday wear, but I love their one-piece, no-fuss appeal. I like to call it the updated alternative to the basic dress.
I've always loved a good trouser pant, but I spotted a rich blue shade on the Kansas City Fashion Week runway that really sparked my interest. The slightly high waistline and clean, cuffed hems gave off a tailored yet artsy vibe.
The shows were dramatic, high-energy and captivating to say the least. As I was leaving the downtown warehouse scene, I realized that Kansas City has so much to offer as far as fashion, and I'm beyond excited to watch KCFW continue to evolve into its own fashion mecca.
— Emily Kennedy is one-half of the stylish duo behind The Fashion Column blog she shares with her twin sister, Elizabeth. Emily can be reached at fashioncolumnblog@gmail.com.
Copyright 2018 The Lawrence Journal-World. All rights reserved. This material may not be published, broadcast, rewritten or redistributed. We strive to uphold our values for every story published.