Sriracha is a Thai hot sauce, and it's not for weak taste buds. But for cooks looking to spice it up, try these side dishes.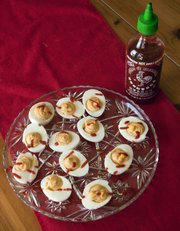 Delicious
Sriracha. My family is sick for the stuff.
It's a simple condiment made of chiles, vinegar and garlic, and for all intents and purposes is probably much like the ketchup of the Thai world.
It's spicy enough that most families could probably make a bottle last for six months or a year, but not this family. We go through it like crazy. I cook with it. It is an ingredient in probably 70 percent of my dishes. Because what is good can only be made better with a dash of rooster sauce. It's a topping, a garnish, and sometimes it's the main event. We love the stuff.
When Sarah and I decided on the beautiful red rooster sauce for this month's column, I immediately started thinking of dishes that really highlight it, instead of the many dishes in my repertoire in which it pays a pivotal but minor role. I decided on sriracha deviled eggs because the sriracha sings a really beautiful solo in this dish. Everything else is just the backup orchestra.
Sriracha Deviled Eggs
6 eggs, boiled and peeled
2 tablespoons mayonnaise
1 tablespoon white vinegar
1 teaspoon sweet and spicy mustard
1/2 teaspoon Sriracha (more if you like it hot)
dash of salt
Slice the eggs in half the long way and carefully pop the yolks out of the center into a medium sized bowl. Add the rest of the ingredients and mash it all together with a fork.
I use a cake decorating bag and tip to pipe the stuff back into the egg centers, but you could just plop it in with a spoon just the same.
Garnish with a streak or two of sriracha for color and a bit of extra flavor and heat.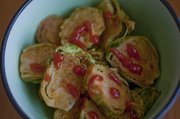 Nutritious
I don't want to freak you all out, but I'm pretty sure the sriracha glaze I've created for this month's Delicious/Nutritious is the best thing ever.
Why? Because it is so tasty that my husband actually willingly ate Brussels sprouts.
To say that he doesn't have the affinity for them that I do would be quite the understatement.
Add the promise of sriracha, though, and he was willing to at least try them.
So he tried one. And then another. And pretty soon he'd eaten an entire serving of Brussels sprouts for the first time in his life.
If you aren't a fan of Brussels sprouts (no judging), you can use this glaze and method with pretty much any other type of vegetable. You just might have to adjust the time. Try it with broccoli, cauliflower, small-cut yams, winter squash or something else. It'll work really well.
BUT: Just remember, this sauce was good enough to get my hubby to WANT to eat Brussels sprouts, so, even if you're afraid of them, you may want to try it with them.
You might just like it.
Sriracha-glazed Brussels sprouts
2 cups Brussels sprouts, washed
4 tablespoons maple syrup
2 tablespoons sriracha
½ teaspoon Dijon mustard
½ teaspoon coconut oil (or olive oil)
Preheat oven to 400 degrees. Line a cookie sheet with parchment paper.
Cut the bottoms off your Brussels sprouts and then halve them. Place them in a medium bowl.
In a small bowl, mix the maple syrup, sriracha, Dijon and coconut oil. Don't worry if the coconut oil stays hard and doesn't blend all the way, just mix it in the best you can — it'll melt in the oven.
Pour the mix over your Brussels sprouts and stir vigorously to coat. Once they're coated, pour the whole thing (including the extra sauce) over onto the parchment paper. Turn all the Brussels sprouts cut-side up.
Roast at 400 degrees for 7 minutes. Flip them and roast for another 5 to 7 minutes. Serve with the extra sriracha on the side for those who really like it hot.
Serves 2.
Copyright 2018 The Lawrence Journal-World. All rights reserved. This material may not be published, broadcast, rewritten or redistributed. We strive to uphold our values for every story published.