The first time Anne Hall met the teenaged girl she was matched with as a Court Appointed Special Advocate, the teen refused to talk with her, stomping out of the room in protest at being paired with yet another adult she was convinced would abandon her.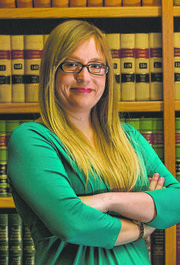 Hall wasn't surprised by the emotional fireworks. She had already pored over this young woman's case file.
Born in Ethiopia, the girl grew up in an orphanage, where she had been sexually abused. At age 6, she was brought to the United States to be adopted. She was then un-adopted — twice. Through the years, she burned through 20 different foster homes.

Hall knew it would take a while to earn the girl's trust, then her friendship. But she wasn't worried. Growing up in a family filled with females, Hall said, "I'm good with girls."
Over the next few months, Hall's faithfulness and patience with her CASA child, coupled with the professional expertise she brought as an attorney, illustrated why she earned CASA's nomination for the United Way Roger Hill Volunteer Center's Wallace Galluzzi Outstanding Volunteer Award.
Douglas County CASA pairs abused and neglected children who are in protective custody with a highly trained volunteer who acts as the child's advocate, safeguarding the child's best interests until he or she is placed in a permanent home.
The key to connecting with a teen who has endured a lot of heartbreak is to move slowly, Hall says. "You have to ease your way into it. I try to build a relationship before we get into whatever the problem is, why they are in foster care."
Hall got together with her CASA child several times a month just to hang out. They took Hall's puppy to the dog park, went out to dinner, went bowling. Soon, the teen felt safe enough with Hall to talk about her troubles. Before long, they had built a bond that lasted after the girl turned 18 and CASA closed her case.

As a newly minted attorney practicing with the Lawrence firm Pendleton and Sutton, Hall had been looking for a way to volunteer in the community. Her husband, Adam Hall, suggested she become a CASA as a way to combine her passion for mentoring teens with her legal know-how. He volunteered to serve as her support CASA, providing the girls with a positive male role model. That was three years, two cases and hundreds of volunteer hours ago.
"Anne is young, she's energetic, she's very involved in the community and she has a personality that just really fits with teenaged girls — they love her," Sherry Catt, volunteer supervisor for Douglas County CASA, said. "She's also a detail person who does her homework and looks at what the needs are and really advocates for whatever case she's working on."
"Being a CASA is really cool," Hall said. "All the other people assigned to the children — the attorney, caseworkers — they all have multiple cases. I'm only assigned one CASA child, so I can give her my complete attention. It's a combination of mentoring and making sure that things don't fall through the cracks, all the stuff that has to be done for the court system, so they don't end up floundering in the system."
"A lot of kids who are taken into custody are used to people disappearing on them," Catt says. "The children sometimes move from one place to another, and sometimes there is turnover with their case manager. The CASA volunteer is the one constant."
In 2012 alone, CASA served 105 abused and neglected children under the protection of the court system, an 18 percent increase over the previous year. They could have served many more — the list of children waiting to be matched with a CASA volunteer has more than doubled in the past year. All that's missing are enough CASAs to pair them with.
Catt encourages anyone interested in learning more about being a CASA to visit dccasa.org or call 832-5172. The website contains a volunteer application and the dates of upcoming volunteer training sessions.
"I love volunteering," Hall said. "I've done Habitat for Humanity builds and all that, but with CASA, you get to build a relationship."
Copyright 2018 The Lawrence Journal-World. All rights reserved. This material may not be published, broadcast, rewritten or redistributed. We strive to uphold our values for every story published.