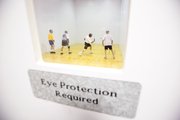 I may have just beaten Max Falkenstien in a game of handball. I'm not sure.
I'm mainly just glad he didn't bust my glasses. When I walked into the room with him and shut the door behind me, he looked them over pretty good.
"I'd be worried about those," he said.
Great. Not that I didn't already have enough on my mind: Like these gloves. I'm wearing a pair of thick leather work gloves, and apparently that is not the height of fashion in the world of handball.
In my defense, they're not my gloves. Lawrence dentist Ed Manda has loaned them to me. He's plays handball three days a week, and always with leather work gloves instead of the specially-made and more expensive handball gloves.
His choice has not gone unnoticed.
"Why don't you play with mittens, Manda?" a locker room passerby asked him a few moments earlier.
Maybe he will some day, because, if the age of the room is any indication, he still has plenty of years left to play the game.
Falkenstien is 88 and he may well be the dean of Lawrence handball. He's played the game for about 70 years, and he's now part of a group of about a dozen other guys who routinely meet three times a week at the former Lawrence Athletic Club (now Genesis) to play handball.
And I just beat him. Perhaps. This is of some importance because I have heard the story of how Falkenstien — the legendary voice of the Kansas Jayhawks — once beat All-American football player and KU/NFL icon Gale Sayers in a handball game.
So, I just beat the guy who beat Gale Sayers. Perhaps. (At least that is how I will forever tell the story.)
Dying sport
Handball — in case you haven't ascertained by now — is a sport I have never played before. That explains why I didn't show up with the proper eye protection and now appear well-equipped to stack a cord of firewood.
I soon got a lesson in the sport. Rick Spano, who ended up serving as my partner, told me handball definitely is a two-handed game.
"You have to have an off hand," Spano explained. "That takes a long time to develop. At least 50 years, near as I can tell."
These days, it appears, a third hand would be useful in the sport too — one to wave it goodbye. Group members said the sport — in Lawrence, anyway — is at risk of fading away.
"Even our youngest are old," Falkenstien said. "There are no young people playing, and it is a shame because it is the best game in the world."
That's saying something, because Falkenstien has seen a few games in his time.
This group doesn't plan on letting the game fade away without a fight. Manda and others have been writing letters to city officials urging them to add a couple of handball courts to the proposed 181,000-square-foot recreation center in northwest Lawrence.
Currently, the city only has one handball court — at the Holcom Recreation Center — that is open to the public, and getting on the court can be difficult during prime leisure times. Genesis has two courts open to members. A handful more are available at KU, but those courts aren't open to the general public.
Group members think a lack of easy-to-access courts has hurt the game.
"How is anybody going to learn to play the game if there is no place to play?" Falkenstien said.
Who knows if that is the culprit. It may be that people discovered you could play racquetball and save your hand the occasional pain. (No worry for me. "You could hit a shovel with those gloves and not hurt your hand," one member observed.)
It appears most handball players aren't interested in making the switch to racquetball.
"You have to trust the people you play with, and these are not trustworthy people," Spano explained. "I'm not going to give them a stick to hit me with."
Worth a shot
At this point, changing the design of the recreation center to add handball courts is probably going to be difficult. Ernie Shaw, leader of the city's parks and recreation department, told me handball — or racquetball, for that matter — had not come up often when the department has asked the public about its recreation desires.
There's some talk among group members about getting KU officials to add a community class in racquetball, but there's nothing firm on that.
Who knows, perhaps just this group and a handful of others will continue to play the game and appreciate its simplicity — "You can hit a bad shot and it still comes back to you," Manda notes — and then it eventually will become a memory.
I don't know. But I do know I enjoyed it. I'm somewhat ambidextrous, and, not to brag, I have quick hands. Actually, I would love to brag about it. I can put 50 cents worth of dimes on my left elbow and catch them in my left hand before they hit the ground, but there are only so many times you can do that at a cocktail party until people start refusing to give you any more dimes.
But here is a sport where such a skill might actually come in handy. Group members really thought I had played before. I kept waiting to hear some trademark Max Falkenstien commentary on my game, but I never did. Just as well, because I understand it is a bit different than what he offered at Allen Fieldhouse anyway.
"He saves his commentary for when you are his partner and you miss a shot," Spano said. "Most of it you can't print."
I missed plenty of shots, but I made a few, too. Enough to beat Falkenstien. Perhaps.
You see, one thing I didn't quite get about the game was the scoring. I thought I had it figured out, but then I returned my mind to the important task of not getting hit by a rapidly moving ball. It was almost like I needed a professional color commentator to explain the scoring system to me, but where are you going to find one of those? (Now that I've read the rules, it doesn't seem complicated. The gloves must have thrown me off.)
Regardless, when the game was over, I wasn't sure who had won. I didn't want to look like an idiot, so I didn't ask. I assumed subsequent conversation would give me a clue. But it didn't. Thanks to my partner, though, I knew the game was close. So — in case I haven't mentioned it — I beat Max Falkenstien. Perhaps.
Either way, I had a good time playing a game I would have never thought to play. And, heck, I learned something too: If you don't try something new in life, sometimes the game passes you by before you even find it.
Well, that, and don't borrow gloves from Ed Manda.
Copyright 2018 The Lawrence Journal-World. All rights reserved. This material may not be published, broadcast, rewritten or redistributed. We strive to uphold our values for every story published.