If you go
The Kansas University Wind Ensemble will premiere "In the Shadow of No Towers" at 8 p.m. (Eastern time) March 26 at Carnegie Hall in New York City. Tickets can be purchased online at carnegiehall.org or by calling 212-247-7800.
The ensemble will perform an encore concert at 7:30 p.m. April 2 at the Lied Center, 1600 Stewart Ave. Admission is free, but ticket reservations are required and can be made by calling 864-2787.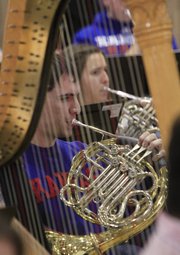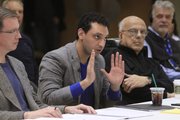 Just write something fast, flashy. Don't get deep. We'll pay you a lot of money. Composer Mohammed Fairouz says he turns down many such requests.
"In the Shadow of No Towers" is nothing like those.
It's not an everyday selection for the Kansas University Wind Ensemble, either.
In perhaps the biggest event KU's School of Music has embarked on, the 69-member ensemble will be the first ever to play Fairouz's large-scale work, a symphony reflecting the 9/11 attacks and their emotional and political aftermath. KU students will premiere the commission this month on one of the world's most famous stages: Carnegie Hall in New York City.
Not only is it rare for a university group to play at Carnegie Hall but it's also exceptional for a composer of Fairouz's profile to commission music for them.
Fairouz, a New York City resident not yet 30 himself, is an Arab-American composer known for scores with geopolitical and philosophical themes. He's only going to live once, he says, so he rarely takes on projects that aren't big. He wants to spend his time writing multi-dimensional pieces that "matter."
Fairouz says most composers aim to commission works for professional musical groups, which he does regularly. In this case, however, he suggested the nationally recognized KU ensemble.
"I'm in this to make a difference," Fairouz says. "You can never underestimate the power of putting your work in the hands of young people."
Making it their own
During a recent rehearsal in Murphy Hall, Fairouz pushes musicians to dig deeper, to play past ambiguity. More nervous energy, he urges, to convey the discomfort beneath the heroic score.
More often than not, KU director of bands Paul Popiel says, the wind ensemble plays classical music by composers who are long deceased.
Collaborating with the composer of "In the Shadow of No Towers" — who's made multiple visits to Kansas for rehearsal — is a unique luxury. But Popiel reminds student musicians that doesn't mean they're playing "his" music.
"It's ours now, he gave it to us," Popiel says before the next run-through. "We need to grab it, and own it."
Most of the wind ensemble's musicians were in elementary school when the planes hit the Twin Towers in New York City. But they've grown up in a post-9/11 world and appreciate the importance of the event inspiring the musical score.
"It's massive," says Philip Kaul, tenor saxophone player and freshman from De Soto.
The level of expression in the score is designed to match the enormity of the event the music depicts, he says. Listeners will hear sadness, heroism and even direct references to each deadly plane crash.
"This is not a standard-issue band piece," adds Pete Walker, English horn player and second-year doctoral student from Terre Haute, Ind.
Typically when the wind ensemble tackles a new piece, the group listens to a recording of someone else playing it. Because "In the Shadow of No Towers" has never been played outside Fairouz's head, that's not an option.
"We're approaching it as a blank slate," Kaul says.
Professional experience
For a student, the opportunity to collaborate with a noted composer on a new piece is a great experience, says Eric Killen, a bassoonist and senior from Lawrence.
"Having the composer here, we really know exactly what he meant," Killen says.
In addition to premiering new music, students say performing at Carnegie Hall will boost their careers, whether as professional musicians or teachers.
"To be the best musician you can be, you need to have opportunities to show that on the biggest stage," Kaul says. "It's obviously a great opportunity to grow as a musician and a teacher."
Muriel Hague, a French horn player and junior from Overland Park, says the Carnegie Hall experience enables the ensemble to take its play to the next level.
"We have the notes, we have the rhythms, and we're getting the musical nuances," she says. "We know we've reached really high standards, and now we get to push it even more."
'Serious-minded' commission
Reach Out Kansas Inc. and the Overland Park law firm Smithyman and Zakoura commissioned "In the Shadow of No Towers" and is sponsoring the wind ensemble's trip to Carnegie Hall to perform it.
Through Reach Out Kansas, James Zakoura has commissioned six works by Fairouz prior to "In the Shadow of No Towers," an idea Fairouz had wanted to create and pitched to Zakoura. The earlier works premiered here in Kansas, Zakoura says, but it was fitting to premiere "In the Shadow of No Towers" in New York, and on a big stage.
Plus, Zakoura says, it's a chance for the wind ensemble to act as an ambassador for the arts in Kansas, showcasing "serious-minded, important work."
Zakoura says he expects the ensemble to continue perform the piece live, and they already have an album deal — the ensemble is under contract to record "In the Shadow of No Towers" for Naxos, the world's largest classical music label, in March, with the album release scheduled for November.
"I look at this as maybe the best model for moving the arts forward, a public-private partnership," Zakoura says of his organization's commissions.
Time flies
Popiel says he was initially apprehensive about the size of the score, an "emotionally wrenching" piece that took Fairouz more than nine months to create.
"This can't have legs," Popiel thought. "We just don't do this."
Fairouz delivered the score in March of last year. And now that the ensemble is fine-tuning, it doesn't feel long at all, Popiel says. "You lose yourself."
Fairouz says he hopes each of his previous commissions through Reach Out Kansas Inc. has put a dent in the preconceived notion that this part of the country doesn't foster groundbreaking work in the arts.
In rehearsal with the wind ensemble, less than five weeks before the debut of "In the Shadow of No Towers," he tells students they're playing "like gods" and will only get better.
"You are going to the most prestigious stage in the United States," Fairouz says. "The eyes of the world are on that stage."
Copyright 2018 The Lawrence Journal-World. All rights reserved. This material may not be published, broadcast, rewritten or redistributed. We strive to uphold our values for every story published.