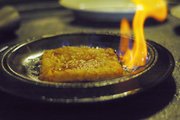 If any food merits being served with a big "opa!" it's a dish that comes on fire. The Flaming Cheese, or Saganaki, appetizer at Mad Greek is brought to the table on a tray, doused with brandy and set ablaze. After the flames die down, it's placed on the table for your enjoyment (safety first!).
The square of aged Greek Kaseri cheese, which comes with pita wedges on the side, is breaded and pan-fried until it's crispy and golden. The flaming part provides a good tableside show and last-minute super-heating to ensure the cheese stays melty long enough for you and a friend to polish it off.
Where to get it: Mad Greek, 907 Massachusetts St.
What you'll pay: $7.59
Try it with: Some Greek wine. Mad Greek has two whites and a red available by the glass or bottle.
Also on the menu: Dolmas (stuffed grape leaves), Gyros sandwiches or dinners, Moussaka, Leg of Lamb, pastas and a full menu page of vegetarian entrees. There are also burgers, including the Hercules — a beef patty topped with Gyro meat, melted Kaseri cheese, feta and tzatziki sauce.
Copyright 2018 The Lawrence Journal-World. All rights reserved. This material may not be published, broadcast, rewritten or redistributed. We strive to uphold our values for every story published.