Responsible for the game-winning run in both of the Kansas University baseball team's one-run victories Friday at Hoglund Ballpark, senior third baseman Jordan Dreiling felt more proud of crossing the plate in the second game of the twinbill than his walk-off single in the first.
Photo Gallery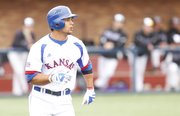 Kansas baseball v. Niagara
Images from Friday's game against Niagara at Hoglund Ballpark.
His ninth-inning line drive to center field that lifted the Jayhawks to a 3-2 win over Niagara certainly felt more dramatic, but scoring the go-ahead run in the bottom of the seventh in a 5-4 KU victory meant more to Dreilling — and not because he stole second and third after getting plunked by a Ben Zaccagnino pitch.
Scoring from third on a wild pitch in the second game meant more to the local veteran infielder, a Free State High product, because it helped his teammate, sophomore left-handed pitcher Wes Benjamin, who struck out a career-high 11 batters.
"It was special to get him that extra run for that 'W,'" Dreiling said after going 2-for-7 at the plate in the doubleheader.
The whole KU team wanted to pick up Benjamin after two errors allowed the Purple Eagles to score four runs (three unearned) and tie the game at 4 in the top of the sixth. But Dreiling provided the boost almost single-handedly — with some help from Zaccagnino. After swiping two bases to advance to third base, Dreiling saw his chance to score on a Zaccagnino delivery to Michael Suiter (who finished 2-for-3) with one out.
"You always try to read downward angle," Dreiling said of surveying a pitcher's delivery, "and I think he threw a slider that right out of his hand you could tell it was gonna be low. So I just had momentum and kept going. It took a pretty high hop and I thought I could probably beat the pitcher there, because I'm already halfway to home plate. So I just kept on going."
Jayhawks coach Ritch Price praised Dreiling for self-manufacturing the go-ahead run.
"He's as good a base runner as we've had since I've been here," the ninth-year KU coach said, "as far as being intelligent and getting jumps. Basically, his aggressiveness found a way to win the baseball game."
Dreiling accounted for three of nine stolen bases for KU — Dakota Smith, Tucker Tharp, Jacob Boylan (two) and Suiter joined in the thievery — which has devastated Niagara (3-12) with 21 stolen bases in three games the past two days. Benjamin, who picked up his first victory of the season, said pitchers don't get down after a bad inning, like Kansas (9-5) had in the sixth, when the offense is so assertive on the base paths.
"It's always nice seeing a lot of stolen bags," Benjamin said, "and a lot of runs up on the score board."
Price said Benjamin's seven-inning, six-hit, one-walk outing, with 11 strikeouts, would have looked more dominant if KU hadn't "kicked the ball around" in the sixth inning, when Greg Rodgers smacked a two-run double over Suiter's head in left field. Benjamin's previous record for strikeouts in a game was eight, as a freshman, but Price said his velocity is up in his second season and the lefty is tightening up the rotation on his breaking ball.
"That's the success you see with the punch-outs now," the coach added.
Though the games proved closer than the Jayhawks had hoped, Price also liked what he saw out of the pitching staff's top two relievers. Sophomore righty Robert Kahana held Niagara hitless and fanned two in two innings in the nightcap to earn his first save. In the first game, junior right-hander Jordan Piché entered in the seventh and improved to 3-0 on the year, with three scoreless innings.
Piché relieved starter Frank Duncan, who got through six innings and gave up two runs (both in the sixth) on five hits and three walks, with five strikeouts.
In the first game, Suiter went 2-for-4, stole two bases and scored a run, and junior catcher Ka'iana Eldredge drove in a run while also going 2-for-4.
Price felt good about getting one win closer to a sweep — KU is scheduled to face Niagara in the series finale today at 1 p.m. If rained out, the teams will play Sunday at noon.
"I'm glad we found a way to grind it out," Price said. "I think that's a good quality for a club to have."
Copyright 2018 The Lawrence Journal-World. All rights reserved. This material may not be published, broadcast, rewritten or redistributed. We strive to uphold our values for every story published.