Related document

New towing policy ( .PDF )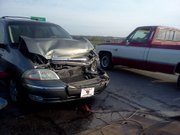 Four months in, a new county policy regulating how much towing companies can charge has alleviated overcharging concerns expressed by residents, said Douglas County Administrator Craig Weinaug.
For the past several years, numerous residents complained about overcharging by local towing companies on the county's nonpreference towing list. In some cases, local residents were charged more than $1,000 for a simple tow.
At an accident scene, motorists can choose whatever towing company they want to haul their vehicle. But if the owner doesn't have a preference, the county's emergency dispatch will choose a company based on a rotating list of area towing companies.
In the past, towing companies could charge however much they wanted. But in September, county commissioners approved a resolution — that went into effect Nov. 1 — requiring towing companies on the list to sign a contract, agreeing to set prices.
For simple tows, the charges are set at $150, with varying adjustments for more complicated tows.
Weinaug said the change has stopped the frequent calls from outraged residents, but discussions continue among the towing companies about whether the set prices are high enough.
"Some of them are not happy with the amount they're getting per tow," he said.
Troy Gentry, owner of 19th Street Towing and Recovery, however, was an advocate for a change to the old system and said he thinks "it's just fine. No problem for me."
Over at Hillcrest Towing, owner Jerry Taylor also said he's OK with the current prices, but has heard complaints from other owners.
Taylor said it might take more time to see whether the policy is fair, though.
"It takes a while to see what the effects are going to be," he said.
Copyright 2018 The Lawrence Journal-World. All rights reserved. This material may not be published, broadcast, rewritten or redistributed. We strive to uphold our values for every story published.