Photo Gallery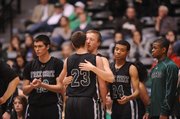 Free State boys vs. Blue Valley Northwest at state
Wichita — FINAL: Blue Valley Northwest 56, Free State 37
The Firebirds hung around longer than many probably expected them to, but Blue Valley Northwest's ability to force turnovers and consistently get to the paint off the bounce made it impossible for Free State (11-12) to keep up with the Huskies (23-0), who prevailed 56-37.
Khadre Lane led FSHS with 15 points in the season-ending loss. Keith Loneker added eight for the Firebirds.
Cole Moreano grabbed a game-high 13 rebounds.
BVNW junior point guard Clayton Custer led all scorers with 20 points and hit 11 of his 15 free-throw attempts. Ben Richardson added 15 for the Huskies, and Vince Fritz scored 11.
Blue Valley Northwest advanced to a Friday semifinal, in part, by forcing 14 Free State turnovers and making a killing at the free-throw line, where the Huskies made 18 of their 27 attempts — including 14 of 20 in the second half.
Free State (37)
Cole Moreano 2-8 0-0 4, Keith Loneker 4-8 0-0 8, Reshawn Caro 1-1 0-0 2, Khadre Lane 6-14 2-2 15, Logan Bannister 0-0 0-0 0, Blake Winslow 1-7 2-2 4, Weston Hack 0-0 0-0 0, Wilson Hack 0-0 0-0 0, Cody Scott 2-6 0-0 4, Kyle McFarland 0-0 0-0 0, Innocent Anavberokhai 0-0 0-0 0, Chris Heller 0-1 0-0 0. Totals 16-45 4-4 37.
Blue Valley Northwest (56)
Kyle Harrison 2-7 0-0 5, Clayton Custer 4-8 11-15 20, Ben Richardson 6-11 3-4 15, Vince Fritz 3-8 3-5 11, David Salach 0-1 1-3 1, Ian Alter 0-0 0-0 0, Mason Schoen 0-1 0-0 0, Andrew Martin 1-1 0-0 0, Chase Kilty 0-0 0-0 0, Trent Lunsford 0-0 0-0 0, Xin Yi Wang 1-1 0-0 2. Totals 17-38 18-27 56.
Score by quarters
Free State 8 9 12 8 — 37
Blue Valley Northwest 5 17 18 16 — 56
Three-point goals: Free State 1-13 (Lane); Blue Valley Northwest 4-12 (Fritz 2, Harrison, Custer). Fouled out: Free State, Scott, Winslow. Turnovers: Free State 14, Blue Valley Northwest 4.
4Q, 1:55, BVNW 54, FSHS 37
Both Cody Scott and Blake Winslow have fouled out for Free State, and Custer is breaking down the Firebirds' defense off the dribble to get to the foul line.
4Q, 4:50 BVNW 48, FSHS 31
Cole Moreano scored on an offensive rebound to give Free State its only basket of the fourth so far.
Huakies are getting to the paint and scoring or drawing fouls with patience and a double-digit lead.
End 3Q: BVNW 40, FSHS 29
The Huskies scored eight straight points to take a 40-23 lead before Free State closed the third quarter strong with a jumper by Lane, a layup by Winslow and a tip-in by Cody Scott before the buzzer.
3Q, 3:38, BVNW 35, FSHS 23
Loneker finally gives Free State a field goal in the second half with a baseline floater. Before that, it was all Huskies, plus some free throws for FSHS by Blake Winslow and Lane.
3Q, 6:39, BVNW 30, FSHS 17
Huskies open the second half on fire, with two baskets by Fritz and a three-pointer by Kyle Harrison.
Halftime: BVNW 22, FSHS 17
Lane drained a three-pointer — Free State's first of the game — with about a minute left to cut the Firebirds' deficit to 20-17, but Ben Richardson answered on the other end with a layup.
It's been a fairly tight game here between the No. 8 seed, underdog Free State Firebirds and the No. 1 seed, heavy favorite Blue Valley Northwest.
Free State is 8-for-21 from the floor with six turnovers.
BVNW has shot 8-for-20 with just one turnover.
Khadre Lane leads the Firebirds with nine points, Keith Loneker has six and Reshawn Caro has two.
Clayton Custer's nine points lead the Huskies, Vince Fritz and Ben Richardson both have four, Kyle Harrison and Andrew Martin both have contributed two and David Salach has one.
2Q, BVNW 19, FSHS 12
Free State is starting to turn the ball over and the Huskies are turning them into points.
Custer hit a three, then scored a layup and an and-one off a steal. The Iowa State commitment, a junior point guard, has eight points in the second quarter.
2Q, FSHS 10, BVNW 9
Blue Valley Northwest takes the lead with baskets by Custer and Richardson before Loneker answers for FSHS.
End of 1Q: FSHS 8, BVNW 5
The Huskies missed their first seven shots but Vince Fritz broke the slump with a three.
Keith Loneker hit a jumper for FSHS and Khadre Lane scored in transition to help the Firebirds take a lead into the second quarter
1Q, FSHS 2, BVNW 1
Free State's Reshawn Caro scored the first field goal of the game on a layup when Keith Loneker passed over the top of a trap.
Blue Valley Northwest's Clayton Custer made one of two free throws on the other end.
1Q, 5:42
Some early nerves on display here in the first round at state, as both teams open cold, combining to miss their first six shots. The Firebirds turned the ball over on their first possession but the Huskies didn't capitalize on the other end.
3 p.m. — Game time
Starters for Free State: Cole Moreano, Keith Loneker, Reshawn Caro, Khadre Lane, Logan Bannister
Starters for Blue Valley Northwest: Kyle Harrison, Clayton Custer, Ben Richardson, Vince Fritz, David Salach
2:50 p.m. — Approximately 10 minutes to tip
Free State looks to have a larger and noisier student section here in a mostly empty Koch Arena. It'll be interesting to see if that helps the Firebirds against a focused Blue Valley Northwest team making its fourth straight state-tournament appearance.
2:05 p.m. — Approximately 55 minutes to tip
Welcome to the Lawrence Journal-World's live coverage of the Class 6A boys basketball state tournament.
Game day has finally arrived and Free State High (11-11), the No. 8 seed, is about to take on the 6A team no one has been able to beat, No. 1 seed Blue Valley Northwest (22-0).
We're closely approaching tip-off — 3 p.m. — at Charles Koch Arena on the campus of Wichita State University and we'll keep you updated here throughout the game, so you can check in on the Firebirds from Lawrence or elsewhere.
In case you're late arriving to the FSHS bandwagon, below are some stories about the Firebirds' expectations for today, as well as how they got to this point:
• Firebirds feeling confident against undefeated BVNW
• Free State's postseason push lets Hack brothers team up one last time
• FSHS boys ride renewed defense to state
• Firebirds boys hope to surprise tougher match-ups at state
• Next stop: state — Khadre Lane sparks FSHS to upset
• Video: Khadre Lane's clutch free throws send Firebirds to state
• Angry 'Bird: Fired-up Cole Moreano sparks Firebirds past Gardner
• 2012-13 Free State boys basketball schedule
Copyright 2018 The Lawrence Journal-World. All rights reserved. This material may not be published, broadcast, rewritten or redistributed. We strive to uphold our values for every story published.