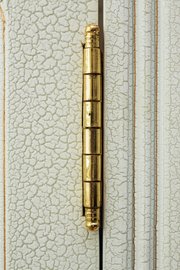 Multiple layers of paint can interfere with the functionality and beauty of cabinet and door hardware.
Removing paint from old metal hardware can be a daunting task, unless you add some hot water into the mix.
Step 1: Facilitate hardware removal by using a carton knife to cut around the edges of each piece. Cut away dried paint from inside the screw heads to allow the screw driver to seat completely into the head.
Step 2: Once the hardware has been removed, place the painted hardware into an old cooking pot on the stove, or better yet, place the hardware into an electric crock pot.
Step 3: Fill the pot or crock with enough water to completely submerge the cabinet hardware.
Step 4: Add a tablespoon or two of liquid dish soap to the water.
Step 5: Bring the water on the stove to a slow simmer or turn the crock pot on low.
Step 6: Allow the hardware to simmer for at least 4 to 6 hours, or allow the crock pot to stew for 24 hours.
Step 7: Remove the hardware from the hot water and allow the metal to cool slightly.
Step 8: Ideally, the paint should slide off the metal hardware. If not, remove any loose paint and place the hardware back in the water and "cook" for a longer period of time.
Step 9: Use a soft bristle brush or a green scrubbing pad to remove any remaining traces of paint.
Step 10: Clean the hardware with a good metal-cleaning compound and reinstall the bright, shiny hardware for a new look.
Copyright 2018 The Lawrence Journal-World. All rights reserved. This material may not be published, broadcast, rewritten or redistributed. We strive to uphold our values for every story published.