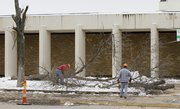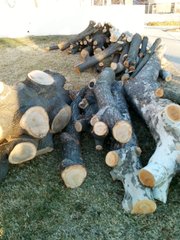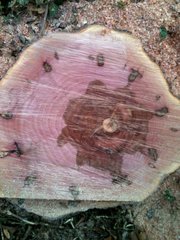 The bad news for tree lovers is that the Lawrence Public Library renovation required workers to cut down trees around the building at 707 Vermont St.
The good news? Those trees aren't gone forever.
A project is under way to keep them in the public realm by turning them into art, the sale of which will benefit the library.
The library has issued a call for proposals for Logs to Literature, a joint effort by the library, Friends of the Library, Lawrence City Commission and the Lawrence Arts Center. The juried exhibition is open to all wood artists and craftsmen in Douglas, Jefferson, Leavenworth, Johnson, Miami, Franklin, Osage and Shawnee counties.
Artwork must interpret at least one of two themes, "books" or "nature," and can be wide-reaching or specific. A number of wood varieties and different-sized blocks will be available.
May 31 is the deadline to submit proposals. Find the detailed call for proposals, plus updates about the project, online at logs2literature.blogspot.com.
Wood will be distributed to artists in October. Artwork will be auctioned following the two-week Logs to Literature exhibition, planned for May 2014 at the Arts Center.
Copyright 2018 The Lawrence Journal-World. All rights reserved. This material may not be published, broadcast, rewritten or redistributed. We strive to uphold our values for every story published.