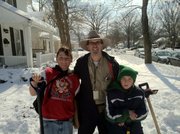 A snow shovel with a metal handle is a dumb idea.
But I own one. It had to win some sort of worst-engineered-product-of- the-year award in the year that it was manufactured . . . which seems to be circa 1948.
Think about it: An unwrapped metal handle in the cold. You need gloves made out of actual polar bear hide to have a chance to keep your hands warm. And to top it off, despite the shovel having a handle sturdy enough to lift a Sherman tank, it has a scoop that is approximately large enough to remove two tablespoons of snow at a time.
In other words, I need a new snow shovel. And my cheap, devious mind has a plan for getting one: I'll go out and help people shovel during the snow storm and write a column about it. Since I'm doing it for work, I'll have no choice but to expense the new snow shovel to the company.
Let's see how it goes.
•••
First, let me say this new $25 snow shovel drives like a Mercedes. I had always suspected your fingers didn't have to turn blue after a snow-shoveling job, but I was never certain until now.
What I am not certain about is why Sheena Parsons and I are shoveling this person's driveway in the 200 block of E. 18th Street. This isn't Sheena's driveway. Her driveway is across the street and it is already cleaned.
"I've only met a couple of people in the neighborhood, and this is one of them, so . . ." said Sheena, a research assistant at KU.
Sheena gave me one tip for my day of snow shoveling — stay hydrated.
In turn, I have one free tip for the good people of the 200 block of E. 18th Street. The next time a 10-inch snowstorm is in the forecast, add this to your list of preparations: Make a point to meet Sheena.
•••
What in the . . . ? I have to do a double take. This is Missouri Street, and it is as clean as a whistle, when many other side streets still look like a snowmobile course for the Winter Olympics.
Missouri Street gets cleared before other streets in Lawrence, Kansas? What's next: City crews clearing out the parking lot for the Tiger Alumni Center? Oh well, there is a trio of people digging out the drift that blocked their driveway near 27th and Missouri, so I stop to show off my shovel.
I meet Chris Edmondson. Guess what? This isn't his driveway either. He's a neighbor. But he's out here because the owner's husband is away at a convention. (Note to self: New way to get out of snow shoveling.) Edmondson said it is the least he can do. His neighbors have come and mowed his yard when he's been down in the back. It's just that type of neighborhood. Who would have thought it on Missouri Street?
I stick around and help a family nearby. It was two ladies wearing skirts trying to shovel a driveway, and a son that handled a shovel like he was afraid it might bite him. When I first arrived, they protested that I didn't need to help. Maybe it was just them being nice or maybe it was my outfit of oil-stained coveralls, a face that forgot the razor, a cowboy hat and a hot-rod shovel.
But I just started shoveling anyway. I found a truism in life: No one really stops you from shoveling their driveway.
•••
Me and the old F-150 decide to go big time. We're looking for a celebrity shovel job. I head by the mayor's house, but pass. I don't think he has a sidewalk, and he has a driveway larger than I'm interested in. So, I head to the vice-mayor's house. (Look it up for extra points.)
We're in West Lawrence now. But I don't make it to the vice-mayor's house. I see a family out shoveling, so I decide to offer my services. I do a U-turn to find a place to park. But I guess I don't put enough "U" in the U-turn, so I get stuck.
No problem. My new shovel is up to the task. I go to grab it out of the pickup bed and . . . Friggin' Frosty. I've left it on Missouri Street. Missouri.
Fear not. I'm a real man, so of course I have a spare garden shovel with me. I dig out and drive back to Missouri Street and apologize for subjecting my nice new shovel to that.
I also make a decision: West Lawrence is on its own.
•••
I go to the Oread neighborhood to be surrounded by some Jayhawks. I find one, and let's be honest, she's attractive. (I have a feeling honesty is not going to pay when my wife reads this.)
But I only mention it because I was surprised that no young college men had come to her aid. After all, a group of them were just a block up the street participating in what best could be described as "Snow shoveling brought to you by Budweiser."
This young woman, in the meantime, is working to shovel out her car, which I kid you not, had snow piled up to the bottom of its driver's-side window.
My shovel and I go through the pile like a Tiger fan goes through handkerchiefs. This young woman now has a freed car to go about her day, while the bozo boys up the block continue to clean out a cooler quicker than their driveway.
I'll just say this: I won't declare chivalry at KU dead — just hung over.
•••
Thankfully, I remember Sheena Parsons' advice: Stay hydrated. The Wheel is nearby. I've never personally known The Wheel to serve water, but I assume there is a chance.
I get there and reluctantly decide to leave my shovel on the business' front porch. The last time I took a shovel into a bar, things got a little complicated.
After about 30 minutes (the waters there are big), I'm walking down the hill. I see it unfold in front of me. A car tries to pull into an unplowed alley and immediately gets stuck. The driver's girlfriend gets out with a six-inch ice scraper to begin digging out the car. An ice scraper.
Two college guys are walking by. They see me — with coveralls, a cowboy hat and a shovel — walking down the hill. Without a bit of surprise in their voice, they tell the woman, "guy with a shovel," and keep walking to the bar.
Ah, to be young again.
•••
Kyle Miller and Sean Ayers are both young. They're 10 years old and are standing in the 1100 block of Connecticut Street.
They take a break from shoveling to tell me that this 10-inch snow is nothing.
Kyle used to live in Minnesota, he tells me.
"We once got a foot and three inches of snow (I don't know, perhaps he is forbidden to say 15 inches), and they still didn't cancel school," Kyle says.
Oh yeah, says Sean. He used to live in Washington state.
"There was snow up to my neck and they still didn't close school," Sean says.
Ah, to be young again.
I pitch in and realize we're digging out a car with handicapped tags on it. Eventually, a man comes out of the house and says a lot of 'thank you's.' He tells us that his wife already had lost a day of work because she couldn't get out.
He asks the boys what he owes them. They ask for $5 apiece. He gives them $10 apiece. The man leaves happy. The boys leave happy. And I leave with my shiny new shovel.
Yeah, I know, the company's not going to pay for it.
Funny thing, though: Somehow I think I still got a good deal today.
Editor's note: Chad, your expense account is hereby approved.
— Each Sunday, Lawhorn's Lawrence focuses on the people, places or past of Lawrence and the surrounding area. If you have a story idea, send it to Chad at clawhorn@ljworld.com.
Copyright 2018 The Lawrence Journal-World. All rights reserved. This material may not be published, broadcast, rewritten or redistributed. We strive to uphold our values for every story published.