Olathe — Minutes after Free State High's girls basketball season ended at Olathe Northwest Saturday night, coach Bryan Duncan shuddered thinking about how talented the Firebirds' opponents had been.
Photo Gallery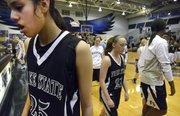 Free State girls vs. Olathe Northwest
"We hit a buzz saw tonight," Duncan said of the Ravens decimating FSHS, 68-31, in a Class 6A sub-state championship game.
The Firebirds (16-6, ranked No. 9 in 6A) knew it would take a special combination of execution on both ends of the floor to topple ONW (18-4, No. 3), winners of nine straight heading into this week's state tournament.
First of all, Duncan thought if Free State could make more three-pointers than the Ravens, his team would have a chance to win its first sub-state title since 2010. From the opening minutes, ONW made those goals unattainable. Though FSHS senior Chelsea Casady hit two from beyond the arc in the first two minutes, the Ravens' Shaleia Jamison, Vashti Neal and Jaylah Jackson all connected from downtown in the first quarter as well, and the Ravens took a 21-7 lead into the second.
Then Kelsey Brooks, Shea Shipman, Neal and Jackson each added a three apiece in the second quarter. Free State tried to keep pace with three-point bombs from Kennedy Kirkpatrick, Scout Wiebe and Casady, but not much else fell for the Firebirds, who trailed 42-18 by halftime.
Kirkpatrick said it seemed as though ONW had made about 90 percent of its shots in the rout. In fact, the Ravens hit 24 of 46 (53 percent), while Free State found success on just 10 of 44 (23 percent). The Ravens' 11-for-21 shooting from three-point range proved superior to the Firebirds' 6-for-24 outing, too.
"That's hard to beat," Kirkpatrick said of the Ravens' accuracy. "And we couldn't hit a shot to save our lives."
Even when FSHS made a basket in the first half, before the margin ballooned, ONW would answer not only with a bucket, but a string of them. In the meantime, Casady was the only Firebird finding consistency. She accounted for four of her team's six first-half baskets and finished with a team-high 14 points.
"I think they had the composure," Casady said of the Ravens, "and they fed off each other and went on a lot of runs, obviously."
Stopping Northwest's top two players would have given Free State a realistic chance at an upset, too. But Brooks scored a game-best 21 points, and Michaela Crall dominated the glass, collecting 15 rebounds to go with nine points.
Then there was the matter of the Ravens defense, which held FSHS to a season-low 31 points. Was it their speed, athleticism or overall size that gave Free State fits?
"Can I say, 'All of the above?'" Kirkpatrick said after going 3-for-12 from the floor with seven points.
The Firebirds dealt with the torment through both tears and laughter in the locker room afterward, and Duncan said they had plenty to be proud of, including tying the program record for regular-season wins (15).
"Obviously, tonight wasn't a fairy-tale ending for us," Duncan said, "and we would've loved to have that, but that doesn't take away from what this group of kids has accomplished."
Olathe Northwest 68, Free State girls 31
FREE STATE (31)
Abbey Casady 0-3 2-2 2, A'Liyah Rogers 0-5 0-0 0, Kennedy Kirkpatrick 3-12 0-2 7, Scout Wiebe 1-5 2-4 5, Chelsea Casady 5-13 1-2 14, Millie Shade 0-4 0-0 0, Summer Frantz 1-1 0-0 3, Ciara Carey 0-0 0-0 0, Ariana Frantz 0-1 0-0 0. Totals 10-44 5-10 31.
OLATHE NORTHWEST (68)
Shaleia Jamison 3-5 0-0 9, Kelsey Brooks 6-10 7-7 21, Vashti Neal 4-9 0-0 11, Jaylah Jackson 4-7 1-4 11, Michaela Crall 4-5 1-2 9, Shea Shipman 2-8 0-0 5, Sydney Mortensen 1-1 0-0 2, Ashley Heller 0-1 0-0 0. Totals 24-46 9-13 68.
Free State 7 11 9 4 — 31
Olathe Northwest 21 21 19 7 — 68
Three-point goals: Free State 6-24 (C. Casady 3, Kirkpatrick, Wiebe, S. Frantz); Olathe Northwest 11-21 (Jamison 3, Neal 3, Jackson 2, Brooks 2, Shipman). Turnovers: Free State 8, Olathe Northwest 11.
Copyright 2018 The Lawrence Journal-World. All rights reserved. This material may not be published, broadcast, rewritten or redistributed. We strive to uphold our values for every story published.