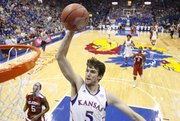 It always seems as though referees pass in front of the photographers right when players like Ben McLemore are milliseconds away from completely "posterizing" a helpless defender. The result is a view of a tremendous play obscured behind the backside of the game official. While the fieldhouse goes nuts after witnessing the moment, harsh words are mumbled under the breaths of every one of those photographers who got blocked.
It happens. It's part of it. You can't get every shot. Sure, I believe all that. I also believe that because there are limitations to where photographers can be as far as shooting the game, they need to consider expanding their visual reach through the use of remote cameras.
I set up a remote camera just about every game, choosing from a low, wide-angle floor remote, an overhead from the catwalk, a backboard camera or another one attached to the standard. Each one can give a unique view of the game from a spot where you can't physically stand to document the game. Here's a little bit about what I like and don't like about each one:
The wide-angle floor remote
Typically, I'll try to put this one on the floor right next to the bucket in a protective housing.
Pro: It's a worm's-eye view of the game that can give a sense of depth to the action, as wide-angle lenses tend to separate points of focus throughout the visual field while telephoto lenses compress them. It's light-weight and covered in padding as not to be a threat to injure any player who may run out of bounds.
Con: Because it's not affixed to an immovable structure like the goal, it doesn't take much effort for a player or even a ball boy to graze it with a foot and point it askew.
The overhead (catwalk) camera
This remote is pretty nice for tight images directed straight down at the bucket.
Pro: It's an interesting look you don't see every day and good particularly when you're shooting what you know will be a physical game that is won or lost with plenty of banging around in the paint.
Con: Because it's pointed straight down on the court, it completely removes the atmosphere surrounding the game. Also — and this is a personal con — going up to the catwalk is not for the faint of heart. I am absolutely terrified of heights, and that massive Jayhawk at center court starts looking pretty small when you're up that high. As my heart races while inching my way along with my gear, I start internally questioning the merits of steel and whether it's strong enough to support me.
The backboard camera
This view is created by attaching a camera with a wide-angle lens an inch or so behind the glass and pointed through the glass at the oncoming play.
Pro: This can be a very dramatic shot as far as showing peak action (usually a dunk) with the atmosphere of the fans and the arena.
Con: Putting up this camera is the most laborious of all potential remotes. You really have to secure it in place with clamps so it doesn't shake. Another downside is that certain officiating crews love to order photographers to remove backboard cameras citing safety issues. Even though the NCAA rulebook allows for them, provided they meet certain safety standards, hours of work putting one up there can be all for naught if an official gives it a thumbs down.
The standard remote, or 'dunk camera'
Usually this one is a wide-angle view where the camera is attached somewhere on the standard, anywhere from waist to chest level and pointed at the bucket.
Pro: This remote also creates a sense of depth within the action. Also, it's not as likely that a game official will block the view of this camera because they typically don't hang out directly under the bucket while the ball is in play.
Con: Being that the objective for a defender is to get between the shooter and the bucket, it's more likely that the opposing defender will block your view of a shot.
I think the images from the camera I have in my hand are almost always far-and-above better than those I shoot with remote cameras. Sometimes, there's no telling whether a remote will fire a frame when triggered. They've bailed me out several times, but it's often anyone's guess what the photos are going to look like from an angle you didn't see the game composed through. Because of this, I look at them more as an insurance policy rather than as a license to drive recklessly and rely solely on the luck they may or may not bring.
Copyright 2018 The Lawrence Journal-World. All rights reserved. This material may not be published, broadcast, rewritten or redistributed. We strive to uphold our values for every story published.