When you ride a cycle as fast as Brad Huff does you don't have to dip into your man cave to fire up a movie in order to see the world. And you don't have to crane your neck for a spot on the windshield not sullied by crushed bugs. He has enjoyed high-speed, open-air views of cities all over the United States, Canada, Mexico, Australia and various stops in Asia and Europe. He wouldn't trade his seat for any other.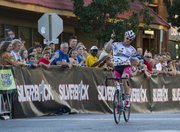 "If you're a cyclist, you get to go all over the world," Huff said after winning the 200-meter sprint Friday night, kicking off the three-day Tour of Lawrence. "You get immersed in each city you go in, just because you have to go ride your bike. We get to a city for a race and we'll ride the day before and ride 30, 40 miles. We'll go all around the town."
Friday night, Huff needed only to go really, really fast on the 700 block of New Hampshire Street to see the only part of the world he needed to see, the winner's circle.
Huff races for the Jelly Belly Cycling Team presented by Kenda and he said he had all sorts of nice things to say about event organizer Bob Sanner, Tour of Lawrence and the city. Not everything about his trip from Springfield, Mo., has been good news, however.
"We're a little disappointed Local Burger has gone out of business," Huff said. "That was a big draw for my wife and me. It's sad because it was a great establishment. We loved eating there and everyone was super friendly. Anyway, back to the race. This was a great night and we had great weather. Everybody's about speed and intensity and this is what they're getting to see here. Lawrence does a great job with it."
Huff said he tries to get "as much sleep as I can, at least eight-to-10 hours," a night during the weekend. He pumps Gatorade to stay hydrated and jacks sport beans for energy.
"It's a big weekend," Huff said. "It's kind of a weekend of attrition because the courses are so difficult, so staying up on hydration, nutrition and sleep plays a big role."
The cyclists move onto the Kansas University campus today for a grueling competition winding up and down hills.
"It's very arduous," Huff said. "It's a hard course, very hard. I just try to survive it."
Joe Schmalz of Lawrence will be tough to defeat in today's Campus Circuit Race, Huff predicted.
The Tour concludes Sunday with the weekend's signature event, the Downtown Criterium Races, aka The Crit. Huff's the man to beat in that one.
"I'll be going for my third win in a row," Huff said, looking to Sunday. "No guarantee if it's going to happen. There are a lot of strong riders, especially the local boy, Joe Schmalz. He'll be vying for the win Saturday and Sunday. I'm just glad to get the weekend off to a good start for everybody."
Vanessa Ray of Kansas City, Mo., won the women's 200-meter sprint and mere mention of today's campus circuit took the shine off her smile.
"It's very grueling," said Ray, who represents Midwest Cycling. "It's very hilly. It's a little tough for the sprinters."
Copyright 2018 The Lawrence Journal-World. All rights reserved. This material may not be published, broadcast, rewritten or redistributed. We strive to uphold our values for every story published.