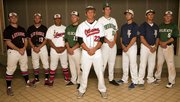 Player of the year
Drew Green, Lawrence
The honors for the junior piled up after he dismantled opposing pitchers all spring, finishing with a .439 batting average. First, Green earned Sunflower League Player of the Year. Then came an even bigger prize: The LHS catcher was voted Player of the Year, in all classes, by the Kansas Baseball Coaches Association.
Coach of the year
Jeff Strickland, Mill Valley
The Jaguars made their third trip to the Class 5A state tournament in the past four years and took fourth place this spring, in Wichita. Strickland's talented team, led by LJ Hatch, Nick Wilson and Tyler Garrison, finished the year 19-6.
First team
Corbin Clark, De Soto
When the Wildcats needed offense, their senior second and third baseman delivered. Clark made a habit of driving in runners in scoring position, and DHS advanced to the 4A state tournament, finishing fourth. He hit .434, with 20 runs scored, 28 RBIs, 12 stolen bases and a .528 on-base percentage.
Drew Green, Lawrence
Every time Green stepped into the batter's box, opponents had to respect the junior's approach. When he wasn't smacking base hits, Green delivered five doubles, used his speed to leg out six triples and knocked out four home runs. Green only struck out seven times in 22 games and drove in 27 runs.
LJ Hatch, Mill Valley
His hands made him a first-team All-State and All-Kaw Valley League shortstop, and the senior's leadership spearheaded another state trip for the Jaguars. Hatch became a feared hitter and produced a .507 average, with 10 doubles, four triples and 26 RBIs. He even pitched, going 5-1 with a 2.65 ERA.
Jonny Hodges, De Soto
With blazing speed and a powerful arm in center field, the senior's skill set took bases away from Wildcats opponents throughout the team's 16-8 season. A solid hitter, too, Hodges batted .321, with five doubles, five triples, a home run and 15 RBIs. He stole eight bases and scored 21 runs.
Dane McCullough, Free State
In 56 innings of work, the Firebirds' right-handed senior ace struck out 48 batters, only walked 14 and came up with a stellar 1.25 ERA. McCullough anchored the FSHS pitching staff, which helped lead the team to an 11-game winning streak, an unbeaten mark in the Sunflower League and 18-4 overall record.
Luke Meyer, Wellsville
The junior played first base and pitcher for the Eagles, who went 8-0 in the Pioneer League. Meyer pitched 37 innings, putting together a 4-2 record on 35 strikeouts, 10 walks and a 0.68 ERA. But he did even more at the plate, hitting .647, with seven doubles, five home runs, 22 RBIs and 21 runs scored.
Kaden Shaffer, Ottawa
An All-State third baseman in 4A, the Cyclones senior didn't look too bad on the mound, either, posting a 6-0 record and a 2.86 ERA. Shaffer helped Ottawa win the Frontier League for the third year in a row and batted .393, knocking six doubles and three home runs to go with 22 RBIs and 27 runs.
CJ Stuever, Lawrence
The Lions could plug their senior utility player just about anywhere on the field and trust him to defend his position or pitch out of a jam. Most often a second baseman, Stuever also threw 43 innings, accumulating a 3-1 record, a save, 22 strikeouts and a 1.63 ERA. He hit .373 and scored 19 runs in the leadoff spot.
Shane Willoughby, Lawrence
The senior's stellar play at shortstop earned him All-Sunflower League distinction, and his late-game pitching made him an All-State closer. Willoughby pitched just 17 innings, but struck out 30 batters, went 1-0, saved three games and had a 0.40 ERA. He hit .356, scored 23 runs, drove in 15 and stole 12 bases.
Nick Wilson, Mill Valley
An outfielder and designated hitter for the Jaguars, the junior led off all season and used his hustle and instincts to go a perfect 18-for-18 in stolen-base attempts. Wilson hit .500 with five doubles and four triples for 5A's fourth-place state team, while producing 36 runs and 19 RBIs.
Honorable mention
Aaron Ackerman, Santa Fe Trail; Chad Berg, Baldwin; Jacob Caldwell, Free State; Tyler Cawley, Baldwin; Wyatt Farris, McLouth; Tyler Garrison, Mill Valley; Sam Hearnen, Free State; Wyatt Hermann, McLouth; Shane Hillman, Wellsville; Dylan Holden, De Soto; Tate Jung, Ottawa; Shamus Kearney, Wellsville; Greyson Laplant, Ottawa; Shane Levy, Tonganoxie; Zach Linquist, Perry-Lecompton; Luis Rodriguez, Oskaloosa; James Sage, Santa Fe Trail; Colton Stark, Baldwin; Seth Steward, Oskaloosa; Bryce Stottlemire, Oskaloosa; and Zach Turpin, Perry-Lecompton.
Copyright 2018 The Lawrence Journal-World. All rights reserved. This material may not be published, broadcast, rewritten or redistributed. We strive to uphold our values for every story published.