Since January, Catherine Shenoy has spent part of each weekend strolling around the Lawrence Country Club golf course. Weather permitting, she would walk the course, play a round of golf, play another round of golf and walk the course again, until she could complete 50 or 60 holes in one day. When there was snow on the ground in February she would just walk, carrying her clubs from one hole to the next.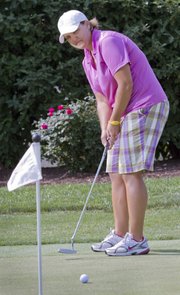 Earlier this month, Shenoy played an all-time high of 62 holes.
Today she will take it up a notch. Shenoy and four other golfers are planning to play 100 holes on foot, totaling about 35 miles, beginning with a shotgun start at 5:30 a.m.
"I'm ready to go," Shenoy said. "I just want it to get here and get going."
Shenoy, a finance professor at Kansas University, along with Lawrence residents John Ross and Harry Herington, Kristen Samp, a Class A teaching pro at the Lawrence Country Club, and Pat Hoppa, of Prairie Village, will take part in the Hundred Hole Hike, a national network of golf marathons that encourages people to walk six rounds of golf in one day to raise money for charity.
Hundred Hole Hike
According to its website, the Hundred Hole Hike was organized after Jim Colton of Holyoke, Colo., walked 155 holes in one day in 2011 to raise $110,000 for a caddie who was paralyzed in a skiing accident.
Support the cause
To donate, visit hundredholehike.com. Click on the "Clubs" tab, select Lawrence Country Club and choose a golfer to support: Catherine Shenoy, Harry Herington, John Ross, Kristen Samp or Pat Hoppa.
Donors may either enter a pledge per hole or a lump sum. There are also performance-based pledges that the golfer will receive for their cause if he or she hits a birdie, eagle or hole-in-one.
The page will not prompt you to enter a credit card number or payment of any kind. Instead, donors will receive an email after the event with information on the golfer's performance and instructions on how to honor the pledge.
Donations are accepted up to two weeks after the day of the hike.
So far this year, 83 golfers nationwide have raised $460,593 for organizations such as the American Heart Association, the Cancer Research Institute and Habitat for Humanity, along with dozens of local nonprofits.
Today, the five golfers playing in Lawrence hope to add to that sum. Each has been receiving pledges on a per-hole basis, and the total amount raised will be split between Douglas County Court Appointed Special Advocates and Dazzlers Christian Dance.
"Cathy and I talked about it last fall, and we wanted something that had to do with kids," Samp said. "When we're working on our 30th mile that day, we need something that would be motivating."
As of Friday, Shenoy had raised about $4,000. Ross, owner of Laser Logic Inc. in Lawrence, hopes to get his pledges up to $25 per hole, or $2,700 total.
Preparing for challenge
The scorecard won't be the main priority Monday. Instead, the group's objective is to just complete the 100 holes.
"We don't care about score," Ross said. "The speed of play is going to be the mantra of the day. If I look 37 seconds for a ball, that's too long."
Samp, who played professionally for 11 years and spent four seasons on the LPGA Tour, figures she needs to get through each round in about two hours. She hopes to complete three rounds by lunch time and finish around 7:30 p.m.
Ross is slightly less ambitious, saying that two hours would be a stretch. In a best-case scenario, he would like to start his rounds at 5:30 a.m., 8 a.m., 10:30 a.m., 1 p.m., 3:30 p.m. and 6 p.m., dropping the last putt at 8:30 p.m.
Time isn't the only expected challenge of the day. Samp knows there will be multiple difficulties — hilly terrain, the weather and few restroom facilities among them — and each golfer has been working to overcome them.
While Shenoy hit the course for weekend strolls, Samp, who has been occupied with her busiest season of the year, has stuck with her usual routine of lifting weights and boxing.
Ross took his preparation to another level. He visited with a licensed nutritionist to plan what to eat, a cycle of protein and carbohydrates, during the 15 hours of golfing. Because his legs tend to cramp, he has also upped his intake of potassium.
Ross also has maintained a workout of jogging and lifting weights, a regime he started years ago after completing treatments for cancer as a way to prevent a relapse.
The Hundred Hole Hike will be his biggest physical challenge since being diagnosed, he said.
"July 15 will be the five-year anniversary of my last chemo treatment," Ross said. "I've been working hard to get my body in really good shape so I can do something as crazy as this."
'Bigger, better, badder'
This is the second summer the Lawrence Country Club has hosted the hike, and it is the only course in Kansas to do so. Ross is working to make it a prominent event that is a mainstay on the summer calendar.
"I'm really trying to set the table for 2014 to be bigger, better and badder," he said.
In order to do this, he has invited directors of local nonprofits to take turns caddying for him throughout the day. He has also solicited food and drink donations from Lawrence businesses to promote a "buy local" theme and to get more community members involved.
"I want them to see what this event looks like so they can plan to do this in 2014," he said.
For the 2014 hike, Ross envisions local nonprofits organizing teams of golfers to raise funds on their behalf, doubling the number of charities that benefit. Samp also sees potential for the Hundred Hole Hike to thrive in upcoming years, saying that people seem to be intrigued by it.
"I think this will be something that would continue, that it will grow next year," she said. "It would be nice if here in little Lawrence, Kansas, we had one of the biggest hikes in the country."
Copyright 2018 The Lawrence Journal-World. All rights reserved. This material may not be published, broadcast, rewritten or redistributed. We strive to uphold our values for every story published.