Proper pruning of trees, shrubs and plants improves the overall health and appearance of landscaping and protects homes and structures from damage.
Step 1: Leave large trees to professionals. Avoid power lines and only use a chain saw when you have both feet on the ground.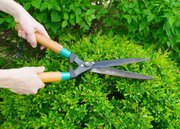 Step 2: Trees and shrubs that flower before the end of June should be pruned immediately after they flower. Prune trees and shrubs that flower after June in the winter or before new growth starts in the spring.
Step 3: Circumvent pruning needs by planting trees and shrubs the proper distance from homes and thoroughfares. Divide the plant's maximum potential diameter by two, add 12 inches and plant it at least that far from all structures, walkways and driveways.
Step 4: Control the size and shape of small plants and shrubs by literally pinching off the growing tips of stems and shoots. Pinch the stem just above a leaf or bud for optimal appearance.
Step 5: When trimming branches from trees and shrubs, cut the branch no less than a half inch from the trunk and leave a stub no more than two inches in length. Use a double-cut method to remove the bulk of branches over 1 inch in diameter. Cut a notch on the underside of the branch 6 to 12 inches from the trunk. Cut the bulk of the branch off above the notch and then cut the remaining stub at least one-half inch, but no more than 2 inches, from the trunk.
Step 6: Eliminate unsightly die back and encourage new growth by trimming small branches and stems a quarter of an inch above a bud or leaf.
Step 7: Consider wind, snow and ice conditions when removing branches from trees and shrubs. Weighted branches touching roof lines or shrubs growing near siding or foundations will cause considerable damage over time. Keep all plants and branches away from roofs and foundations. Remove dead or broken branches before they have a chance to damage existing vegetation or structures.
Step 8: With the exception of hedge rows and topiaries, avoid the artificial shaping of plants, trees and shrubs. Allow the natural form of the growth to dictate the aesthetic view.
Step 9: Planting and landscaping mistakes happen. Do not hesitate to remove plants, trees or shrubs that are too large, aesthetically unpleasing or simply nonfunctional in the overall landscape plan.
Copyright 2018 The Lawrence Journal-World. All rights reserved. This material may not be published, broadcast, rewritten or redistributed. We strive to uphold our values for every story published.