Modern art now decorates the stone walls that once stowed wheat and barley at 805 New Hampshire St. The wooden window frames and huge metal sliding door still remain from the 1889 Kansas Seed House.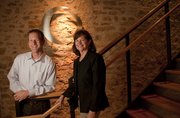 Touches of Lawrence can be found throughout the historic building that ad agency Callahan Creek Inc. now uses to dream up award-winning national and regional advertising campaigns.
It is an unexpected location for a company in an industry whose participants are typically headquarted in the midst of a metropolis. But Cindy Maude, chief executive officer of Callahan Creek, says downtown Lawrence nurtures the most necessary component of a marketer's mind: creativity.
"We chose Lawrence over Kansas City for intangible reasons," Maude said. "We liked the colorful vibe and felt that this is a place where creative people would love to work."
More than 50 employees cultivate Callahan Creeks's campaigns, which include everything from the recent nationwide "Trifexis" television advertisements to pro bono work for local organizations such as the Lawrence Arts Center and Douglas County United Way.
Remember the television commercial for pet medicine in which the family puts its dog in an clear outdoor tube to escape fleas and ticks? That was Callahan Creek. Were you drawn to the waving wheat artwork on Free State Brewery beer in the liquor store last weekend? That was Callahan Creek.
Callahan Creek's expertise is "specialty brands," or products that are harder to find or are designed for a specific audience. Take, for example, Hill's Pet Nutrition, a Callahan Creek client whose product is found in pet stores, rather than Walmart. Maude says these products attract a unique customer base, which makes the creative process fun.
"Working on specialty brands, you're targeting people who are passionate," Maude said. "We're not talking about someone who is going out to buy a can of beans, we are talking about someone who is enthusiastic about the products we're selling."
To help move unusual merchandise, Callahan Creek strives to turn shoppers into "advocates," creating a team of personal cheerleaders for the brand. Chris Marshall, the company's vice president of account management, says this strategy is imperative for many clients competing with big-budget mass-market competitors.
"You're not going to outspend your competition," Marshall said. "So, how can you be effective as you're building brands? You have to do it at a grassroots level."
This approach is effective, creating memorable campaigns. Over its 19 years in Lawrence, Callahan Creek has taken home several ADDY awards, which are like the Oscars of advertising.
Examples of the agency's creativity are everywhere, and the minds behind the work are just one block over from Massachusetts Street.
"It's important to make sure downtown remains vibrant and grows," Maude said. "There's a lot of opportunity for businesses like ours to work in Lawrence; we would like nothing more than to have other big advertising agencies here."
Copyright 2018 The Lawrence Journal-World. All rights reserved. This material may not be published, broadcast, rewritten or redistributed. We strive to uphold our values for every story published.